Recruiting Update: JUCO DT commits; The MAC's top 100 signees of 2020
With *100 days until the start of college football in the MAC, let's look at the 100 top signees coming into the league. (*We'll see.)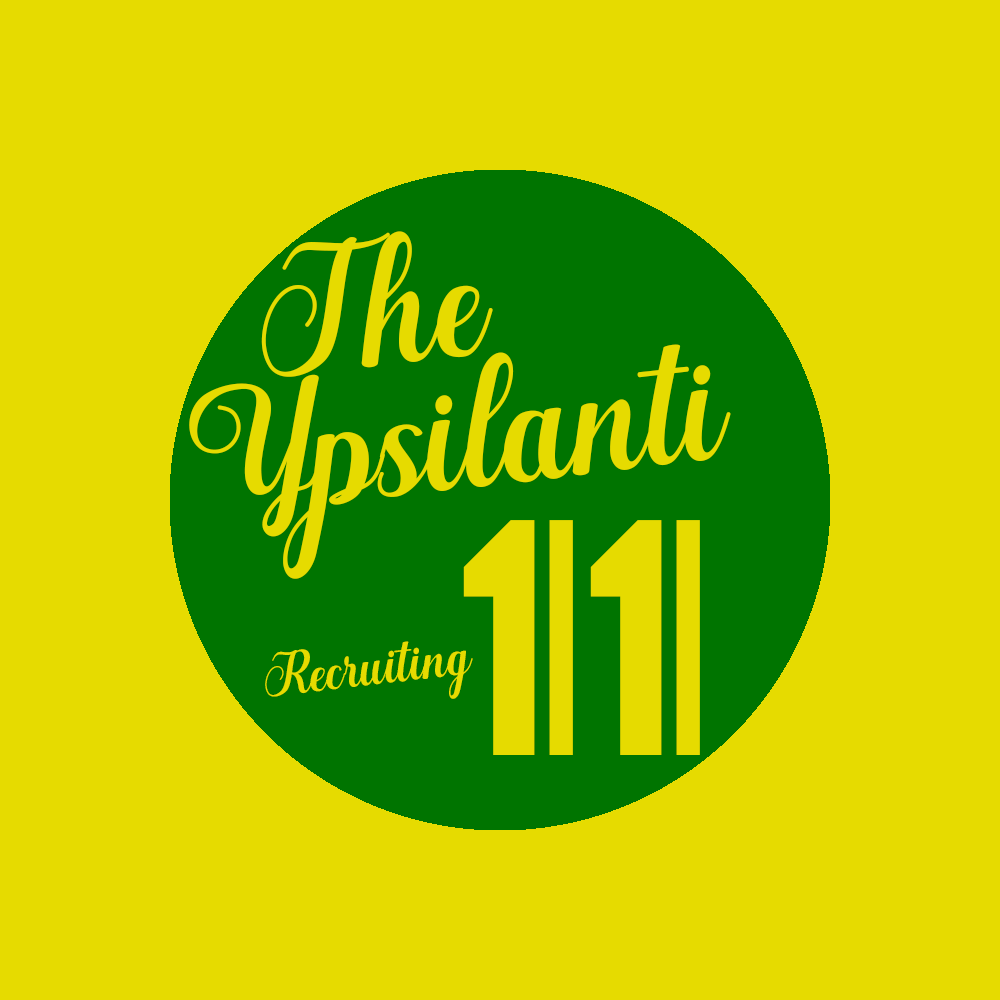 EMU receives JUCO DT commitment
Eastern received a commitment out from DT Jordan Crawford, a Texan, junior college transfer that could be an instant impact for this interior defensive line. Crawford announced his decision last week on Twitter.
"I felt that it was the right place for me and they really made me feel like family," Crawford told The Ypsilanti Eleven in a message.
Given the timing of everything, Crawford has yet to make an actual campus visit but has met with the coaching staff virtually.
Crawford is from Houston, Texas who played his high school ball at Pearland (class of 2016), then got his collegiate career started at nearby Tyler College. Last year in his sophomore season, Crawford made 20 tackles over seven games, five tackles for loss, one sack, and forced a fumble (per NJCAA website).
While Tyler College's website says Crawford signed with Division-II University of Texas Permian Basin in December, Crawford said that there was a breakdown in communication, and never signed with the team.
Crawford, as 247sports notes, is also the son of a former NFL linebacker, Vernon Crawford, whose career might look like a blueprint for Jordan. Vernon grew up in Texas, but his college career didn't start at a 4-year university. Instead, he moved out West to play at City College of San Francisco for two years, then transferred to Florida State for the better. In 1997, Vernon was drafted in the fifth round by New England and lasted four years in the league.
His goals for when Crawford finally makes it to Ypsilanti and suits up for Eastern?
"Dominate the conference in tackles and have a 3.0 GPA."
Crawford will come to EMU with two years of eligibility.
Crawford was the biggest guy on his junior college roster last year at 340 pounds. Even with that size, there was a play in his sophomore highlights where he beat the center, changed directions, leaped over someone's legs, and moved over 30 yards to make a tackle. The addition of Crawford simply adds more potential to EMU's defensive line in 2020.
Wait, did EMU actually get
two
JUCO commits?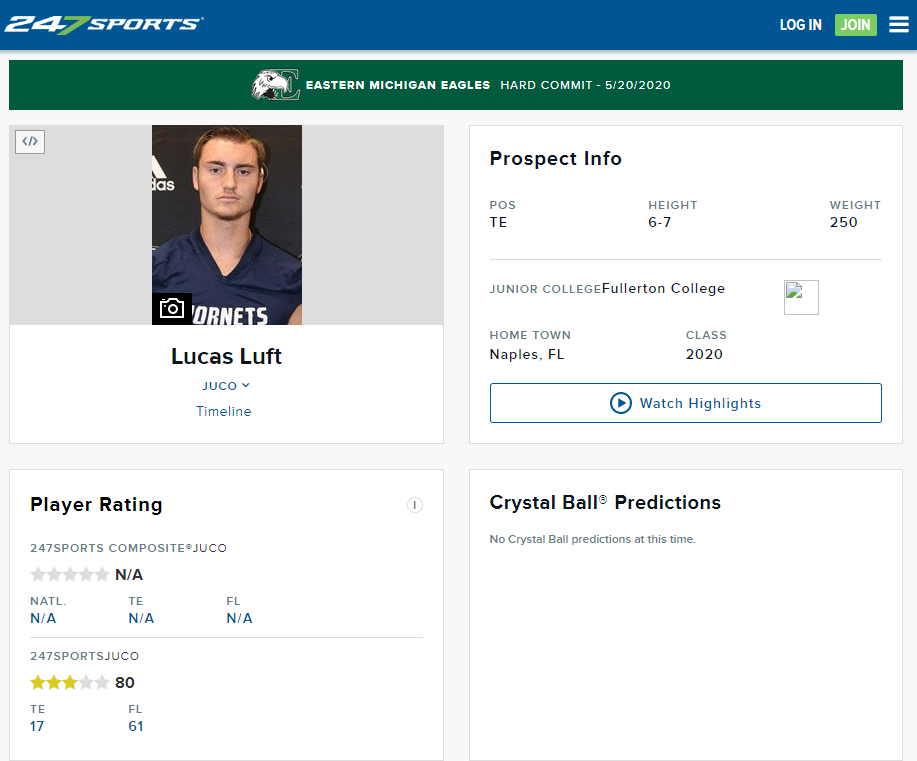 From the looks of his 247sports page, it looks like EMU's set to get more immediate help on offense, too. The day after Crawford's commitment to the program, 247sports reported that TE Lucas Luft (Naples, Fla. / Gulf Coast HS, Fullerton College) has committed to EMU. Luft has not made an official announcement about his plans to transfer yet, but he's still able to receive offers.
Class of 2021: EMU still with one commit
Looking forward, EMU still only has the one commitment out of Indiana: DT Peyton Price, whose older brother played for defensive coordinator Neal Neathery at UTSA. One is the fewest amount of commitments to any MAC school right now, but the amounts vary. Akron (3), Ball State (5), Buffalo (5), and Ohio (3) have a handful of 2021 players committed so far, but Central Michigan (12), Miami (17), Northern Illinois (13), Toledo (15), Western Michigan (11) are all in the double digits.
This part, so far, isn't really good or bad. At this point last calendar year, EMU's only commitments came from CB Myles McNeal (Grand Blanc, Mich.) and LB Bryce Huddleston (Ft. Thomas, Ky.). It wasn't until June, when in-person recruiting and scouting really heats up for high school juniors and seniors, when EMU saw its first real wave of commitments come in. By the end of June 2019, EMU saw its list of commitments rise from *two to ten.
*OL P.J. Ross was committed to the program in 2018, but didn't get to sign until December 2020. These numbers don't include him.
The NCAA's dead period is still in effect through June 30, which means that in-person recruiting will remain impossible until decision-makers across the map give Chris Creighton and his staff the green light to go about their business again. Not only does this mean that players can't visit Ypsilanti for their first or second time, and the cancellation of camps just means that huge evaluation opportunities went out the window too.
But just because EMU's not getting commitments, that doesn't mean they're not kids aren't picking schools at all. In fact, 247sports' Bud Elliott showed that the amount of recruits that have committed to schools this year is more than double of what it was last year. To be straight up with you, this is the exact opposite trend I expected to see when the pandemic began.
Out of those 861 commitments made, 102 of them are to MAC schools. If you want to read the names of these guys and watch their junior-season highlights, click here.
100 Days Until Football*: Top 100 Class of 2020 Signees
But first, breaking news: Deadlines extended for early-game kickoffs
Today, this week, was supposed to be a fun and corny time for social media departments, but instead we have to bookend all of our discussions with the ongoing coronavirus pandemic. Regularly-scheduled football games for some football programs was set to begin 100 days from now, Thursday, September 3. Ball State was set to represent the MAC for the start of college football season that day. But today, major TV networks and the college football leagues across America released this statement today: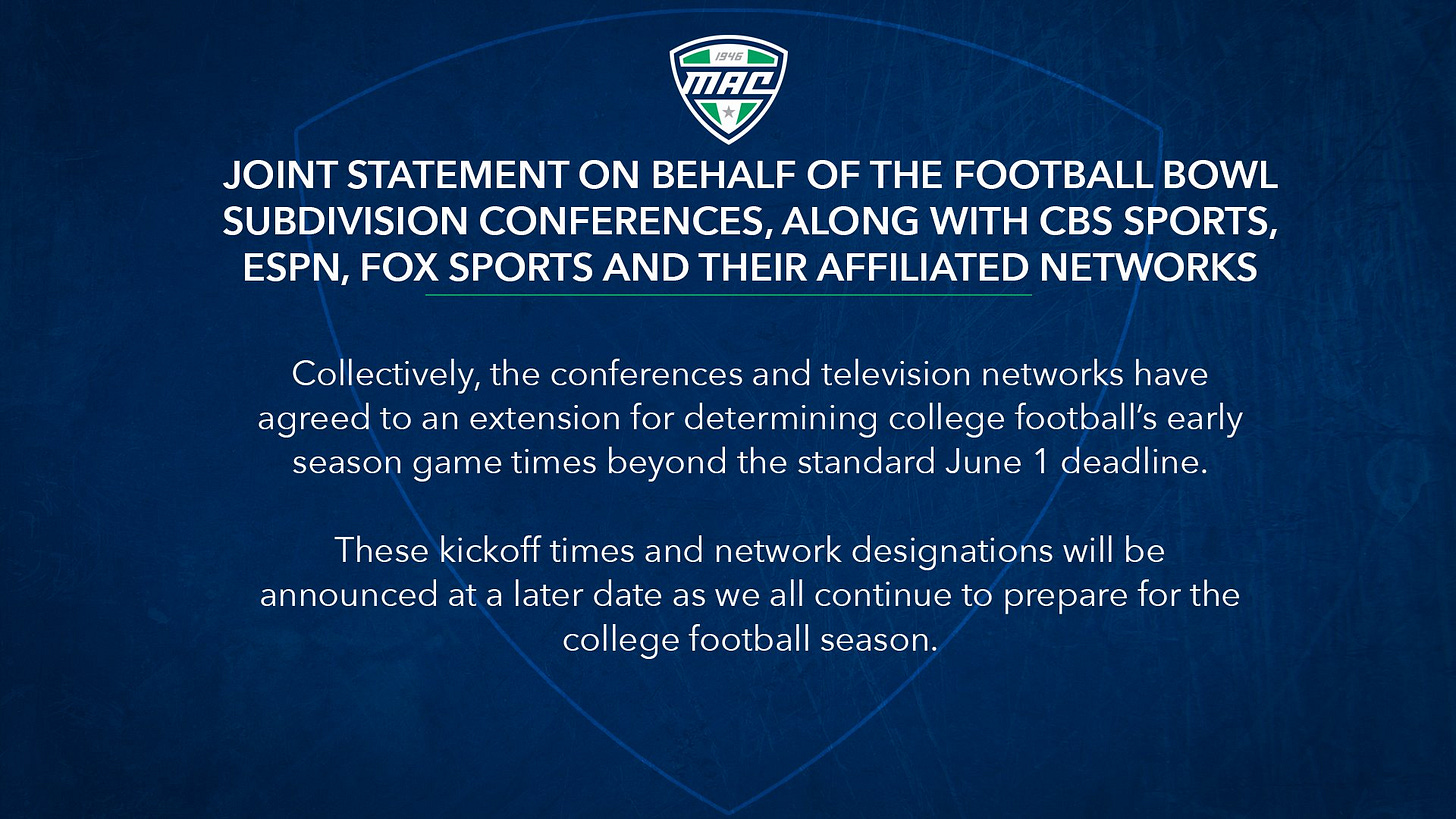 While we're not sure when exactly football will begin, let's spend this time by finding a way to celebrate today by looking at some of the best, incoming players across the MAC. Using 247sports' composite scores, I've made a list of the top 100 players coming into the league this year.
Top 100 signees of 2020
RB Lamy Constant to Toledo — East Orange, N.Y. / Canarsie HS (247sports composite score: .8750)

RB Jordon Ingram to CMU — Mobile, Ala. / St. Paul's Episcopal HS (.8742)

WR DeMeer Blankumsee to Toledo — Cincinnati, Ohio / Winton Woods HS (.8647)

WR C.J. Parks to EMU — Santa Ana, Calif. / Mater DeiHS, Cerritos College (.8600)

TE Clay Caudill to Toledo — Mansfield, Ohio / Mansfield HS (.8580)

CB Deshawn Jones Jr. to BGSU — Akron, Ohio / East HS (.8579)

LB Tyler Berrong to Kent State — Port Orange, Fla. / Atlantic HS (.8567)

DE Logan Wilson to WMU — Kimberly, Wisc. / Kimberly HS (.8552)

QB Dustin Fletcher to NIU — Flint, Mich. / Carmen-Ainsworth HS (.8545)

QB Gavin Hall to Toledo — Kennesaw, Ga. / Harrison HS (.8530)

S Jaden Rayford to Toledo — Pemberville, Ohio / Eastwood HS (.8530)

WR Quin Magwood to Ball State — Columbus, Ohio / Walnut Ridge HS (.8525)

RB Jevyon Ducker to NIU — Bellevue, Neb. / Bellevue West HS (.8517)

DE Latrell Thompkins to Toledo — Detroit, Mich. / Denby HS (.8499)

WR Kaevion Mack to WMU — Peoria, Ill. / Peoria HS (.8484)

QB Tucker Melton to BGSU — Phenix City, Ala. / Central HS (.8484)

CB Ronald Pledger to WMU — Chicago, Ill. / Phillips Academy HS (.8484)

DT C.J. West to Kent State — LaGrange Park, Ill. / Nazareth Academy HS (.8473)

DE Billie Roberts to BGSU — Muskegon, Mich. / Muskegon HS (.8471)

S Ryan Kilburg to WMU — Park Ridge, Ill. / Maine South HS (.8463)

CB Daemon Hill to CMU — Palmetto, Fla. / Palmetto HS (.8453)

LB C.J. Ware to Miami — Nolensville, Tenn. / Nolensville HS (.8451)

S Woodly Appolon to NIU — Winnipeg, Manitoba / Butler C.C. (.8450)

RB Kenny Tracy to Miami — Indianapolis, Ind. / Decatur Central HS (.8444)

RB D.J. Smith to EMU — Frisco, Texas / Frisco Lone Star HS (.8426)

TE Levi Gazarek to BGSU — North Baltimore, Ohio / North Baltimore HS (.8418)

RB Quadre Nicholson to Miami — Evanston, Ill. / Evanston Township HS (.8417)

WR Javonte Kinsey to BGSU — Jacksonville, Fla. / Sandalwood HS (.8402)

DT George Wolo to Buffalo — Oldney, Md. / Our Lady of Good Counsel HS (.8398)

CB Elijah Eberhardt to BGSU — Springdale, Ohio / Princeton HS (.8395)

DT Eston Miles to WMU — Williamston, Mich. / Williamston HS (.8389)

RB David Afari to Miami — West Chester, Ohio / Lakota West HS (.8378)

S Eddie Jackson to NIU — Miami, Fla. / Gulliver Prep HS (.8376)

OL Jackson Stoefen to Toledo — Eldridge, Iowa / North Scott HS (.8376)

DT Martez Poynter to Toledo — St. Louis, Mo. / Trinity Catholic HS (.8369)

S T.J. Rush to Miami — St. Louis, Mo. / Trinity Catholic HS (.8356)

DE Geri Theodore to Toledo — Clearwater, Fla. / Clearwater Academy International HS (.8356)

QB Jack Salopek to WMU — Irwin, Pa. / Norwin HS (.8347)

WR Jeremiah Batiste to Miami — Chattanooga, Tenn. / Tyner Academy HS (.8340)

WR Harrison Truitt to Miami — West Lafayette, Ind. / West Lafayette HS (.8336)

WR Keegan Wilburn to Ohio — Nelsonville, Ohio / Nelsonville-York HS (.8324)

WR Luke Floriea to Kent State — Mentor, Ohio / Mentor HS (.8322)

RB Cauren Lynch to Toledo — Irving, Texas / Parish Episcopal School HS (.8322)

LB Cody Kopp to NIU — Jacksonville, Fla. / University Christian HS (.8317)

WR Larry Stephens to Toledo — Springfield, Ohio / Springfield HS (.8317)

S Giacomo Iraci to WMU — Oak Lawn, Ill. / Brother Rice HS (.8315)

QB Riley Keller to BGSU — Toledo, Ohio / Whitmer HS (.8308)

OL Kyle Arnoldi to WMU — Commerce Township, Mich. / Walled Lake Northern HS (.8305)

CB Quinyon Mitchell to Toledo — Williston, Fla. / Williston HS (.8305)

TE James Phillips to WMU — Youngstown, Ohio / Ursuline HS (.8299)

OL Joseph Habinowski to Ohio — Hollywood, Fla. / Chaminade-Madonna Prep HS (.8288)

WR Nahree Biggins to CMU — Hillside, N.J. / Hillside HS (.8287)

WR Latrell Fordham to Ball State — Burton, Mich. / Davidson HS (.8287)

TE James Bomba to Miami — Bloomington, Ind. / Bloomington South (.8286)

DE Bryce Johnson-Maith to Buffalo — Baltimore, Md. / St. Frances Academy HS (.8286)

OL Garrett Schwiebert to Toledo — Hamler, Ohio / Patrick Henry HS (.8286)

WR Rico Small to EMU — Willoughby, Ohio / South HS (.8286)

DE Michael West to Kent State — St. Louis, Mo. / Christian Brothers College HS (.8286)

LB Isiah Childs to Akron — Manhattan, Kan. / Wamego HS (.8281)

RB Myles Bailey to CMU — North Brunswick, N.J. / North Brunswick HS (.8274)

OL Jason Eaton to EMU — Clarksville, Tenn. / Clarksville HS (.8274)

S Eric Rogers to NIU — Burlington, N.J. / Burlington Township HS (.8274)

TE Griffin Little to BGSU — Fort Wayne, Ind. / Homestead HS (.8269)

QB Griffin Brewster to Kent State — Rome, Ga. / Darlington HS (.8268)

LB Tyler Fletcher to WMU — Nashville, Tenn. / East Tennessee Magnet School HS (.8268)

CB Roman Parodie to Ohio — Fort Lauderdale, Fla. / Cardinal Gibbons HS (.8267)

S Anthony Enechukwu to WMU — West Bloomfield, Mich. / St. Mary's HS (.8255)

DE Jordan Porter to BGSU — Muskegon, Mich. / Muskegon HS (.8255)

S Brayden Evans to Ball State — Camby, Ind. / Mooresville HS (.8254)

DT Joshua Tarango to Ball State — Anaheim Hills, Calif. / Cayton HS, Fullerton College (.8250)

TE Mitch Bartol to WMU — Kimberly, Wisc. / Kimberly HS (.8248)

DE Janirr Wade to Akron — Stone Mountain, Ga. / Stephenson HS (.8247)

OL Keegan Smith to CMU — Jackson, Mich. / Lumen Christi HS (.8234)

CB Cam Griffin to WMU — St. Louis, Mo. / Lutheran North HS (.8227)

RB Donovan Marcus to Ball State — Brownsburg, Ind. / Brownsburg HS (.8227)

DE Tyler Roberson to Kent State — Louisville, Ky. / Trinity HS (.8227)

DE Ivan Davis to NIU — Canton, Mich. / Plymouth HS (.8220)

CB David Carter to EMU — River Rouge, Mich. / River Rouge HS (.8213)

RB Mark Brownlee to Ball State — Elkhart, Ind. / Elkhart Central HS (.8212)

S Davern Rayner to NIU — Indianapolis, Ind. / Lawrence Central HS (.8206)

LB Aaron Washington to BGSU — Atlanta, Ga. / Woodward Academy HS (.8200)

CB Peter Kemeni to Ohio — Mississauga, Ontario / Clarkston Football North (.8198)

WR John Saunders to Miami — High Point, N.C. / High Point Christian Academy HS (.8198)

OL Vinny Sciury to Toledo — Massillon, Ohio / Perry HS (.8198)

CB Woobendy Gurrier to Akron — Homestead, Fla. / South Dade HS, Butler C.C (.8195)

TE Davis Heinzen to CMU — Manitowoc, Wisc. / Lincoln HS (.8192)

OL Mickey Rewolinski to EMU — Union Grove, Wisc. / Union Grove HS (.8192)

QB Aveon Smith to Miami — Lexington, S.C. / White Knoll HS (.8187)

QB Baron May to EMU — New Philadelphia, Ohio / New Philadelphia HS (.8185)

DB Trent Simms to BGSU — Toledo, Ohio / Sylvania Northview HS (.8173)

WR Jeremiah Howard to NIU — Merillville, Ind. / Merrillville HS (.8165)

LB Sawiaha Ellis to Toledo — Fairfield, Ohio / Fairfield HS (.8160)

LB Juan Jarrett to Akron — Cincinnati, Ohio / Princeton HS (.8160)

DB MyJaden Horton to Akron — Cincinnati, Ohio / Princeton HS (.8159)

S Jalen McNair to Buffalo — Olney, Md. / Our Lady of Good Counsel HS (.8159)

QB Casey Case to Buffalo — Winter Park, Fla. / Winter Park HS (.8158)

DE Reignings Awah to Kent State — Mississauga, Ontario / Clarkston Football North (.8154)

CB Myles McNeal to EMU — Pontiac, Mich. / Grand Blanc Community HS (.8154)

LB Deshawn Walker to Toledo — River Rouge, Mich. / River Rouge HS (.8154)

RB Terion Stewart to BGSU — Sandusky, Ohio / Sandusky HS (.8153)
---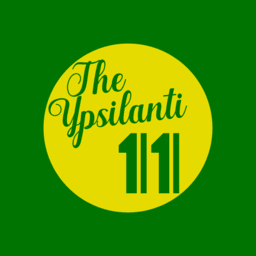 Thank you for reading The Ypsilanti Eleven! | Twitter: @ARAlvarado13 & @Y11recruiting |Here's my Class of 2021 MAC Recruiting Notebook | Song of the day: "Dashboard" -Modest Mouse | Sign up for updates below!