Discover more from The Ypsilanti Eleven
Ypsilanti's college football newsletter.
Pre-spring interview with Chris Creighton
From polishing off the 2020 signing class to hiring new coaches, EMU's head coach talks to The Ypsilanti Eleven about what this offseason has been like from his chair.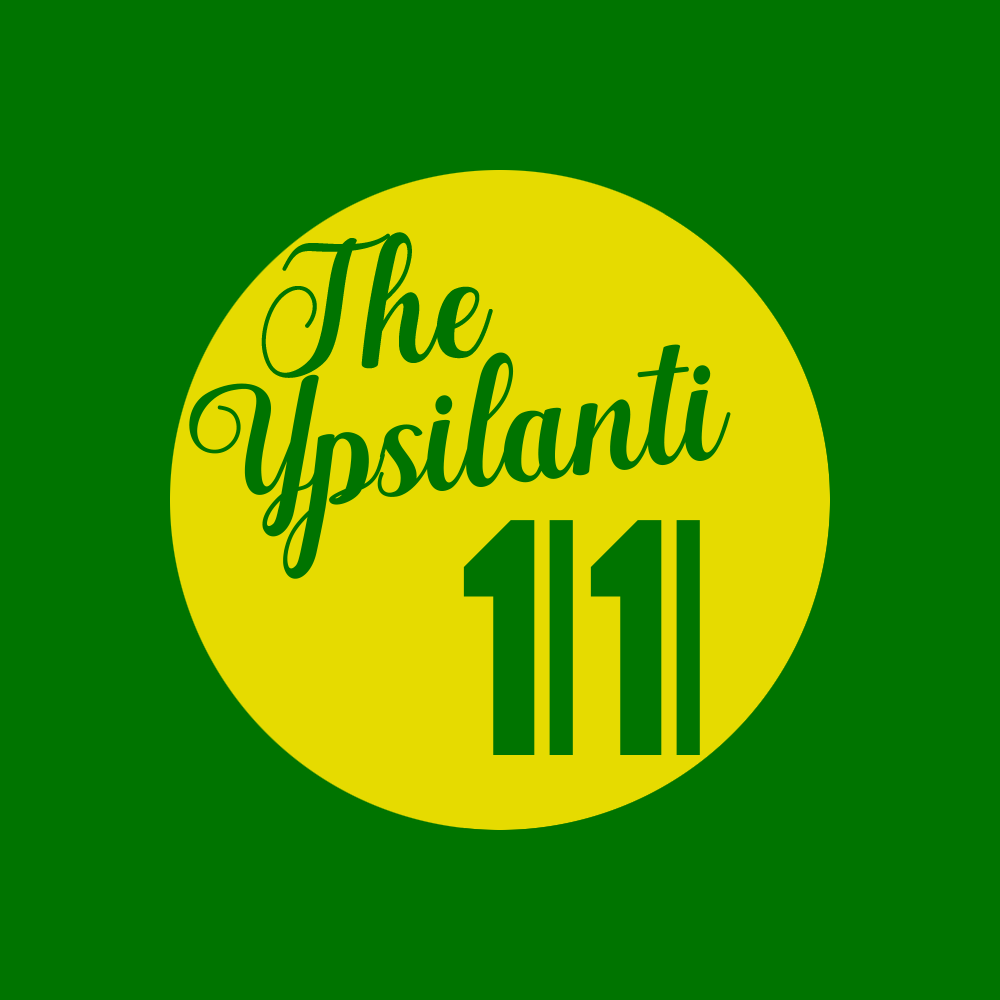 Spring practices begin tomorrow for Eastern Michigan, so who better to preview things with than the team's head coach?
Chris Creighton sat down with me late last week to go over the goings-on for his team as it enters the spring season.
"There's no sleep for the winter" is the short and sweet way of looking at the pace Creighton and his staff has had to work since the Quick Lane Bowl. Over 20 players graduated, three assistant coaches had to be replaced, the 2020 signing class had to be finalized while the 2021 recruiting trail is already underway, and now it's time to see if the current roster can overcome the holes this past graduation class left.
Here are some highlights of what I learned from my conversation with Creighton:
Chris Creighton will be calling the plays
While he's not going to label himself as the offensive coordinator, Creighton's going to call the plays this season. Former O.C./quarterbacks coach Aaron Keen accepted the head coaching position with WashU in St. Louis (D3), his alma mater, in early January. Keen took a lot of ownership in his play-calling abilities, but now Creighton's taking a more democratic approach to pushing the buttons in 2020.
Both Todd Frakes and Rob Reeves have left football coaching, which meant Creighton had to hire three new coaches. Joining EMU this year: Mike Piatkowski (QBs), LaMarcus Hicks (CBs), and Brandon Blaney (TEs). He also assigned OL coach James Patton to be the run game coordinator on offense, and Fred Reed moved from corners to safeties along with the added responsibilities of being the defense's pass game coordinator.
"Some of this is going to be semantics, but I'm not going to be the offensive coordinator in the way that people think of that," Creighton said. "We're going to be doing it together. We're taking what we've been doing, but then there are minor pieces that people will see as a little bit different if they're really familiar with our offense.
"Part of our staff is breaking down film weeks before we ever play anybody. On Sunday after a game is when we all start looking at different parts of our opponent and writing down thoughts and whatnot. We get together on Monday and we start going through our process and building the plan. It's not like we're going to do this, this, this, this, this, this, and then we take our notes and go coach our guys. You hire people who are great at what they do and are experts in their areas. With me, it's always a collaborative effort."
The leading positions for offense are at O-line & TE
Regular readers of this newsletter should know how little is returning at the skilled positions, but Creighton told me that this team's going to lean on its linemen to make the plays happen. There's not as much turnover in this group with the starting left guard (Sidy Sow), center (Mike Van Hoeven) and right tackle (Brian Dooley) all returning. Might as well throw Jake Donnellon, the right guard, onto this list too since he started the final four games last year.
Nobody wants to lose steady left tackles, but Creighton has plenty of candidates to try out for the position this spring. Some of the guys that are in the running include Sow, who played left tackle as a freshman, redshirt-freshman Jimi McAdams, sophomore Marcellus Johnson, and junior Zack Kadri.
The tight end position has a lot of returning pieces too with seniors Thomas Odukoya and Bryson Cannon (20 receptions, 212 yards, 2 touchdowns last year) leading the group.
"There may not be many stars out there, but as a group, if they're able to play together and whatnot, it can be a really good offensive line," Creighton said. "If you're losing one full-time starter and a part-time starter, I think we've done a really good job of recruiting the classes in how they shaped out to be even."
There's a lot that has to play out in the spring before we can learn too much about the skilled positions on this side of the ball, but EMU's in a good place up front.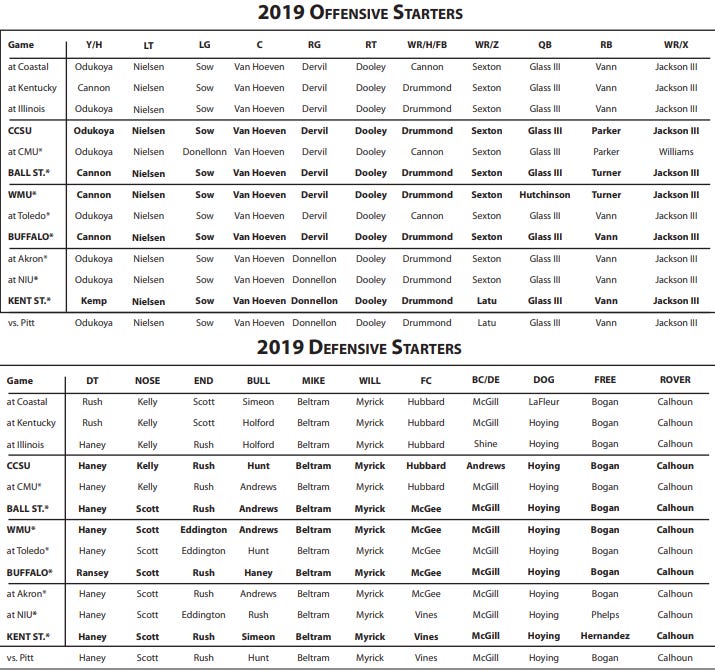 Starting lineups via Eastern Michigan Football 2020 Spring Prospectus.
Defensively, Creighton looks to D-line
There are six seniors to represent the defensive line this year, and there's a lot of talent behind them that warrant playing time too.
"I think that we'll be led by our defense this year. It starts with our D-line, and our D-line is pretty good," Creighton told me.
Turan Rush, senior end, led the team with five sacks and six QB hurries. Mikey Haney, a sophomore who moved from interior to end, is the D-line's returning tackler with 43 total last season (2 sacks) and started in 11 games. Woo Scott started nine games, played in all 13, and recorded 40 tackles last year. C.J. Hunt, Anthoney Ransey, and Carter Stagner all played in at least 10 games for the Eagles with additional experience from Ty Eddington, Clay Holford, DeSean Boyd (moved from linebacker), Alex Merritt, and Aaron Hamilton coming back.
The D-line didn't play in 2019 like it did in 2018 (with Maxx Crosby and Jeremiah Harris) but that's also to say that there's plenty of room to grow. Eddington's season was cut short to injury, but was able to redshirt with only four games played last year. Holford's another player that EMU was expected to graduate, but is able to have him for his sixth year with the program.
Secondary experienced, despite losing three starters
Kevin McGill, Brody Hoying, and Vince Calhoun were All-MAC selections for multiple seasons. They've all graduated, but none of them are going to be replaced by guys that haven't seen the field yet.
"At corner you've got Freddie McGee who's played a lot of football for us. Kempton Shine played four games as a freshman so he still has four years — he did a really nice job. "Juice" Jerrod Vines played quite a bit last year. Timarcus Simpson and Isiah Watson not as much but they're coming along."
Creighton also noted that Jeff Hubbard, who made five starts at corner, has moved to safety. McGee made five starts last year, Vines started three times, and they combined for 57 tackles and nine pass breakups in 2019.
"Noski (LaFleur) ended up playing quite a bit because Brody got banged up, so Noski got a lot of experience last year and he's a good player."
LaFleur's played in every game of 2019, made 24 tackles, one interception and one forced fumble.
"Blake Bogan, Jalen Phelps, Korey Hernandez, Russ Vaden, not to mention all of the freshmen we redshirted, we'll replace Vince's ROVER position from that group. When you take Brody, Vince, and Kevin, that's three multi-year, All-MAC players. Again, Noski's not going to be a first-time player. Blake, Jalen, Korey, Russ — they've all played a lot of football."
Bogan was last year's starter at free safety, and Phelps is back for a fifth season with the team after an injury-shortened season last year. Hernandez and Vaden played in 13 and 12 games last year, respectively.
Team shattered PRs in workouts
"In the wintertime, our seniors set a goal of 372 personal records (one more than last year). We tested at the end of February in seven different categories. On average, that's already four personal records per person. We got 440."
More notes
On QBs: Incoming grad transfer Chris Helbig is the only "unknown" at this position, so it'll be interesting to see how this position battle shakes up. Creighton applauded Preston Hutchinson's great start against WMU (31 of 36 passing, 4 total TD), but is also hoping for more improved development from Isaac Stiebeling and Aaron Jackson.

On RBs: Shaq Vann and Breck Turner led this group for the last six and five years respectively, but now it's time for someone else to handle the rock. Willie Parker, Karmi Mackey, D.J. Smith, Darius Boone — hopefully somebody stands out this spring from this group.

On WRs: This position lost a lot, but has its top two returning receivers coming back this year: Dylan Drummond (55 catches) and Quian Williams (52). If guys like Jairus Grissom and Hassan Beydoun keep improving with their developments, then this position might end up becoming an obvious strength again.

On OL Dmitri Douglas, who transferred from Michigan State: Douglas was recruited by Creighton out of high school, but ended up going to (and leaving) MSU. The hope is for Douglas' waiver to be accepted by the NCAA and have him play right away.

On special teams: Jake Julien returns as the team's punter (43.8 average in 2019) and Chad Ryland's back at kicker (14 of 19 field goals last year), so Creighton's excited to have them come back for 2020.

EMU's Pro Day will be on Thursday.
---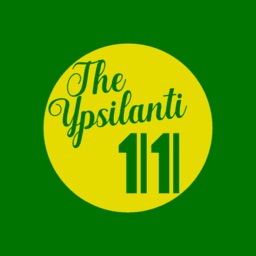 Twitter: @ARAlvarado13 | Song of the day: "ATLiens" -OutKast | Sign up for updates below!