Discover more from The Ypsilanti Eleven
Ypsilanti's college football newsletter.
MACtion in the NFL: Week 5
Maxx Crosby Update: Notched his 14th career sack in Sunday's upset over Chiefs.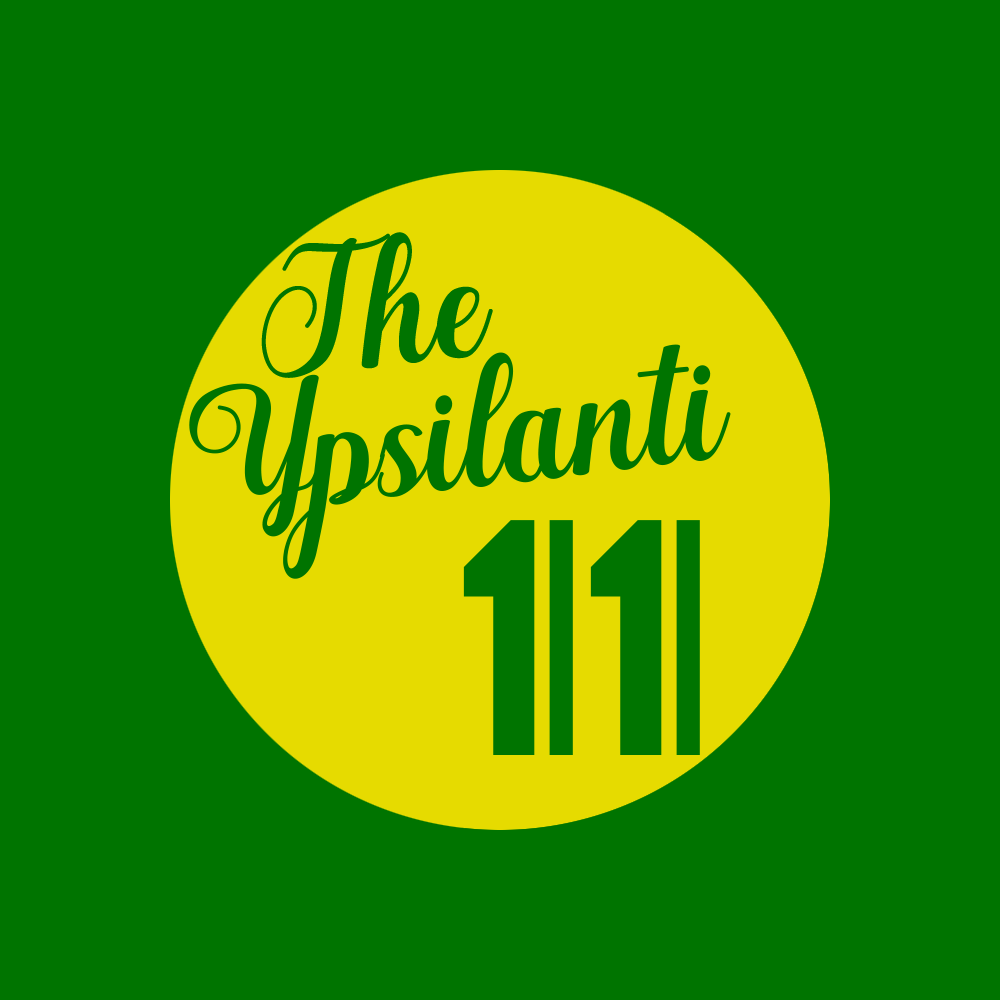 Welcome to The Ypsilanti Eleven! The NFL had its Thursday, Sunday, and Monday games (and we're still waiting on a Tuesday game to be played?) which means it's time for a box score roundup with a focus on MACtion. Eastern's own Maxx Crosby notched the most expensive sack of his life against Patrick Mahomes, and Diontae Johnson (former Toledo WR) thought he could go Sicko Mode with his only catch in the Pittsburgh-Philly game, but he did not. Also, EMU officially announced upgraded Ring of Honor, which added the names of six more alums.
If you like EMU and/or Mid-American Conference football, please subscribe to Y11 and get free updates like this and more in your inbox. Only 22 days until the season starts back up!
MACtion in the NFL Roundup: Week 5
Did Maxx Crosby Get A Sack? Yes.
Eastern Michigan's own Maxx Crosby sacked Patrick Mahomes on a crucial third-and-long yesterday and it was wonderful. The takedown of Mahomes in Las Vegas' stunning 40-32 win over Kansas City was Crosby's sixth sack of the year and the 14th of his career.
The only thing that would've made this play better is if Central Michigan graduate and former first-overall draft pick Eric Fisher were the right tackle on this play, but he's on the other side of the line.
'Legends Never Die': EMU's Ring of Honor upgrade officially unveiled
Eastern Michigan officially announced the new and improved Ring of Honor at Rynearson Stadium on Stadium with this Sandlot-inspired tweet:
For being EMU studs that made into NFL games, enter: Andy Mulumba, Bronson Hill, Darius Jackson, Pat O'Connor, Andrew Wylie, and Maxx Crosby.
Mulumba was an undrafted defensive end/outside linebacker in 2013 and started three of his 14 games played for the Green Bay Packers as a rookie at age 23. Mulumba played 22 games over his three-year career with the team.
Hill was an undrafted running back in 2015 after he racked up over 2,000 career rushing yards for the Eagles. Hills NFL career lasted five games split between the Jacksonville Jaguars and Arizona Cardinals.
Jackson was a sixth-round draft pick by Dallas in 2016 that found himself in four games with two different teams in 2018. He's still a journeyman that's spent most of his time in the practice squad ranks, but for his NFL career he's carried the ball six times for 16 yards. Currently, Jackson is on Indianapolis' practice squad.
O'Connor was a seventh-round pick by Detroit in 2017, but his career has been made in Tampa Bay where he's a defensive end and does some special teams. Over his career, O'Connor appeared in 16 NFL games including all five this year.
Wylie wasn't drafted unlike the other names included with the unveiling, but unlike them, he got to play on a Super Bowl-winning team last year. Wylie campaigned from team to team before Kansas City finally signed him, and has been a full-time starter for the Chiefs O-line when healthy. He's started in 24 career games for the Chiefs (three this year) and played in 30 games. 
Crosby's had the best individual start of the group — drafted in the fourth round by the Raiders of Oakland (now in Las Vegas) in 2019, 21 career games played, 14 sacks, 20 tackles for loss, 19 quarterback hits, five passes defended, and four forced fumbles.
No D.J.! That's not my D.J.!
Diontae Johnson, former Toledo great and now reliable receiver with the Steelers, made a business decision on Sunday that turned out badly for him. This was the result of his only target of the day.
Box Scores: Snap counts & stats for all former MAC players
(Note: All former EMU players are in bold. All players that formerly transferred out of MAC programs while still in school are italicized. All information via NFL's official box scores)
Chicago Bears 20, Tampa Bay Buccaneers 19 (Thursday)
Buffalo-CHI: LB Khalil Mack (86% defensive snaps) — 3 tackles, 2 solo, 2 sacks (-14 yards), 3 QB hurries, 1 pass defended

BGSU-TB: WR Scotty Miller (63% offensive snaps)

CMU-TB: CB Sean Murphy-Bunting (98% defensive snaps, 21% special teams) — 6 tackles, 5 solo; 1 ST tackle

EMU-TB: DL Pat O'Connor — (1 defensive play, 79% special teams snaps)
Carolina Panthers 23, Atlanta Falcons 16
NIU-ATL: WR Christian Blake (22% offensive snaps, 50% special teams) — 1 assisted ST tackle

Buffalo-ATL- DE Steven Means (46% defensive snaps, 31% special teams) — 4 tackles, 1 solo

WMU-CAR: OL Taylor Moton (100% offensive snaps)
Baltimore Ravens 27, Cincinnati Bengals 3
WMU-CIN: CB Darius Phillips (71% defensive snaps, 35% special teams) — 2 QB hurries, 2 passes defended

Buffalo-CIN: TE Mason Schreck (27% special teams snaps)

Ball State-BAL: WR Willie Snead IV (60% offensive snaps, 1 special teams play)— 3 targets, 0 receptions
Houston Texans 30, Jacksonville Jaguars 14
Miami-JAX: DT Doug Costin (38% defensive snaps) — 1 assisted tackle

NIU-HOU: OL Max Scharping (25% special teams snaps)
Las Vegas Raiders 40, Kansas City Chiefs 32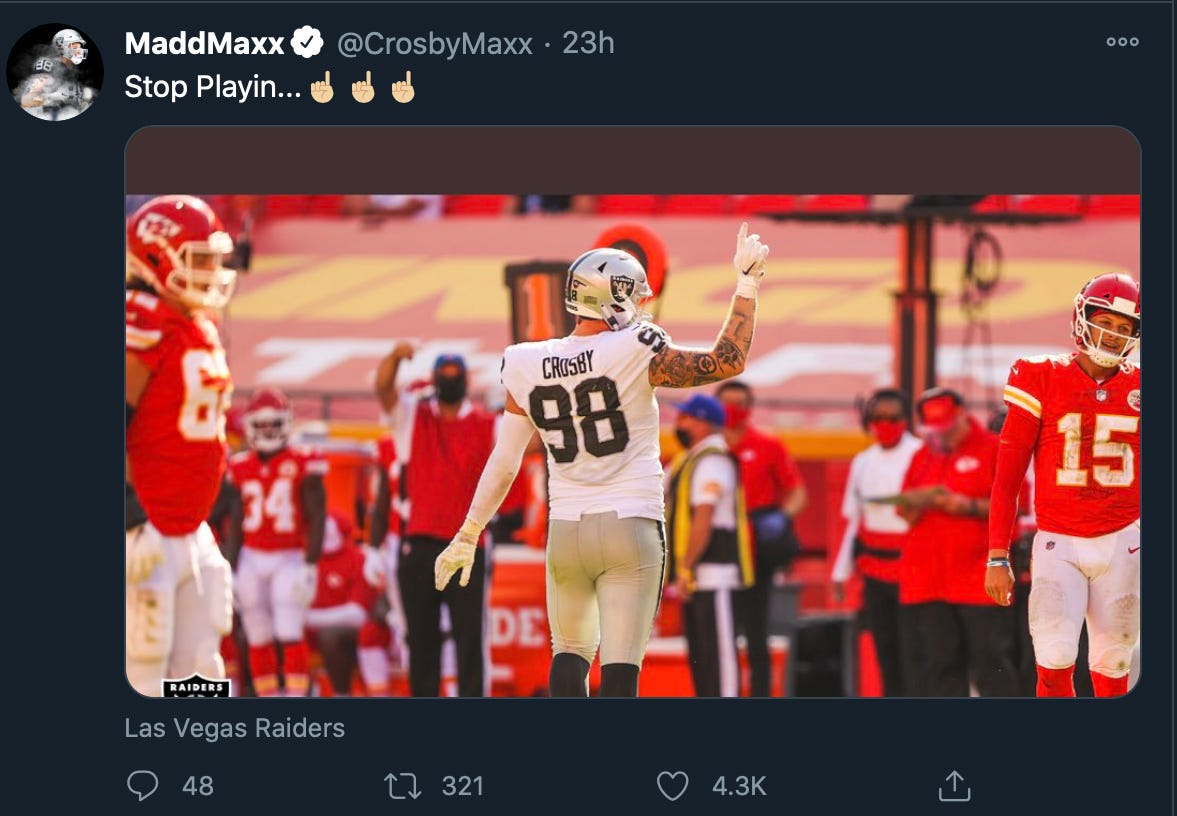 EMU-LVR: DE Maxx Crosby (92% defensive snaps, 13% special teams) — 2 tackles, 1 solo, 1 sack (-7 yards), 2 QB hurries

CMU-KC: OL Eric Fisher (100% offensive snaps)

EMU-KC: OL Andrew Wylie (100% offensive snaps, 13% special teams)
Arizona Cardinals 30, New York Jets 10
Ohio-NYJ: LB Tarell Basham, LB (51% defensive snaps, 52% special teams) — 1 assisted tackle

CMU-ARI: RB Jonathan Ward (4% offensive snaps, 48% special teams) — 1 assisted ST tackle
Pittsburgh Steelers 38, Philadelphia Eagles 29
Toledo-PIT: LB Olasunkanmi Adeniyi (62% special teams snaps) — 1 ST tackle

Akron-PIT: LB Ulysees Gilbert III (50% special teams snaps) — 1 assisted ST tackle

Toledo-PIT: WR Diontae Johnson (8% offensive snaps, 8% special teams) — 1 target, 1 rec., -2 yards; 2 punt returns, 12 yards

WMU-PHI: OL Luke Juriga (15% special teams snaps)

WMU-PIT: OL Chukwuma Okorafor (100% offensive snaps, 23% special teams)

Miami-PIT: QB Ben Roethlisberger (100% offensive snaps) — 27/34 passing, 239 yards, 3 TD, 0 INT; 2 rush, -2 yards

WMU-PIT: LB Robert Spillane (62% special teams snaps)
Los Angeles Rams 30, Washington Football Team 10
Miami-LAR: K Sam Sloman — 1/1 field goals (made: 28), 3/3 PATs
Miami Dolphins 43, San Francisco 49ers 17
CMU-MIA: S Kavon Frazier (14% defensive snaps, 61% special teams)

NIU-SF: DB Jimmie Ward (100% defensive snaps, 48% special teams) — 6 tackles, 4 solo; 1 ST tackle
Cleveland Browns 32, Indianapolis Colts 23
Ohio-IND: CB T.J. Carrie (5% defensive snaps, 75% special teams)

Toledo-CLE: RB Kareem Hunt (70% offensive snaps) — 20 att., 72 yards; 4 targets, 3 rec., 21 rec. yards, 1 rec. TD
Dallas Cowboys 37, New York Giants 34
Seattle Seahawks 27, Minnesota Vikings 26
NIU-MIN: WR Chad Beebe (31% offensive snaps, 52% special teams) — 2 targets, 1 rec., 11 yards; 2 punt returns, 7 yards

CMU-MIN: TE Tyler Conklin (11% offensive snaps, 28% special teams)
Los Angeles Chargers at New Orleans Saints (Monday)
Toledo-LAC: OL Storm Norton (7% offensive snaps)
Buffalo Bills at Tennessee Titans (Tuesday)
Toledo-BUF: TE Reggie Gilliam (6% offensive snaps, 42% special teams)

Toledo-TEN: P Brett Kern — 3 punts, 128 yards, all inside 20

Buffalo-BUF: CB Cam Lewis (98% defensive snaps, 1 special teams play) — 6 tackles, 5 solo

Kent State-BUF: OL Brian Winters (90% offensive snaps)
Postponed: Denver Broncos at New England Patriots
On Bye: Detroit Lions, Green Bay Packers
---