Discover more from The Ypsilanti Eleven
Ypsilanti's college football newsletter.
Greg Kelley: Everything on the table
Wrongly-incarcerated Outcry documentary subject thrilled to be part of EMU program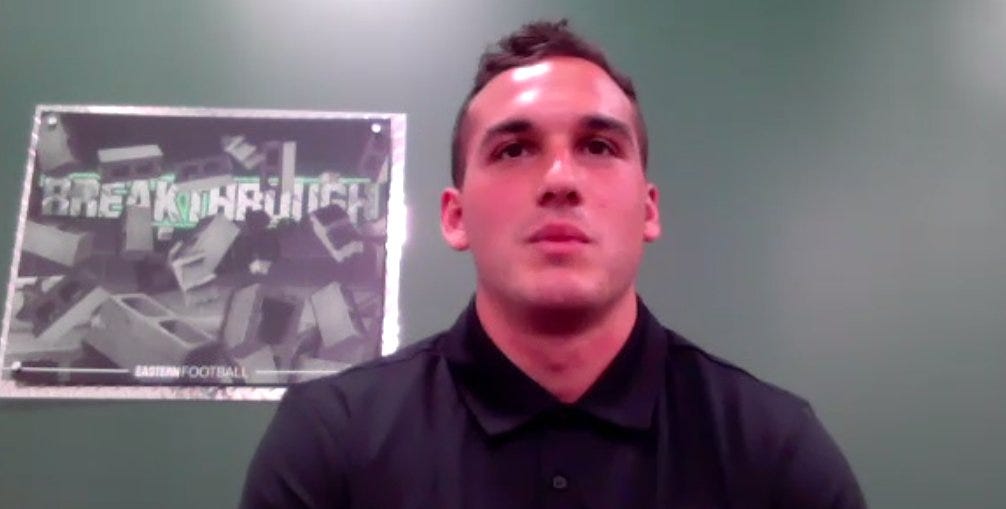 Welcome to The Ypsilanti Eleven! Greg Kelley is officially with the Eastern Michigan football program in the most unique, unfortunate, and exciting ways possible, and he spoke with the media about this transition on Thursday.
Kaleb Carter shares Kelley's story for the newsletter. This post is also Carter's introductory post as a contributor to Y11. I'd love to see a Venn diagram of my readers who don't know Carter by now. His credentials for those unaware: formerly an NIU beat writer at The DeKalb Daily Chronicle and MAC blogger at Hustle Belt. He also puts in a lot of work for preps coverage for his local Illinois affiliates.
When an opportunity fell out of Greg Kelley's hands, he had to sit down and consider the possibility that the football chapter of his life was over. The 25-year-old who had experienced an extraordinary life already had a tough decision to make.
After originally expecting to play at the University of Texas in his native state as a walk-on, his plans changed when Texas decided not to bring walk-ons onto the team this season due to concerns surrounding the coronavirus. 
"Ultimately I weighed it all out and I put everything on the table," Kelley said. "I actually made a list of the pros and cons of coming up to Eastern to play football and leaving everything that I know in Texas to go and do so. I ultimately weighed it all out and the column with all the pros outweighed the cons. I said, you know what I'm just going to make this decision and go 100% ahead with it."
It was a simple conversation that started the northeastern trek that landed the Showtime's Outcry documentary subject at Eastern Michigan.
Kelley had a relationship with current Eagles assistant head coach Neal Neathery when Neathery recruited him to UTSA, where Kelly had originally committed.
"He (Neathery) asked me, did you ever think about  leaving the state to go play?" Kelley said.
The 25-year-old said he had wanted to stay in Texas and hadn't really considered leaving the state, but Kelley's previous relationship with Neathery helped win him over to EMU, despite the tough conversations that came with Kelley's wife and family still in Texas.
"There was always this thing in the back of my head like, 'maybe it's worth playing for a guy that actually cares about me,'" Kelly said. 
The new safety (ROVER, specifically) shared the news of his signing on Facebook Saturday.
Kelley said he signed his scholarship with the Eagles just two weeks after entering his name into the transfer portal at UT. His wife Gaebri and he made the trip to Ypsilanti to get the paperwork done for his scholarship and visit.
"The reality of it is I would be lying if I (said) I didn't think about closing that chapter of my life. It was… Getting into Texas and taking the classes at Texas, it was extremely tough, but it was also, I had a sense of pride being there, being able to get into that school, getting my GPA high enough to go do it."
Convicted of super-aggravated assault on a child and originally sentenced to prison for a term of 25 years before being released in 2017 on bond by a district court judge, Kelly was completely exonerated in 2019.
The Detroit News' Tony Paul wrote about the nightmarish situation Kelley experienced.
"He was released on bond in August 2017, a district court judge recommended the conviction be overturned in December 2017, and last Nov. 6, it became official."
"We take matters like this very seriously," EMU coach Chris Creighton said in a statement. "We believe that much of Greg's youth has been taken away from him and we want to give him the opportunity to live out his dream of playing Division I football."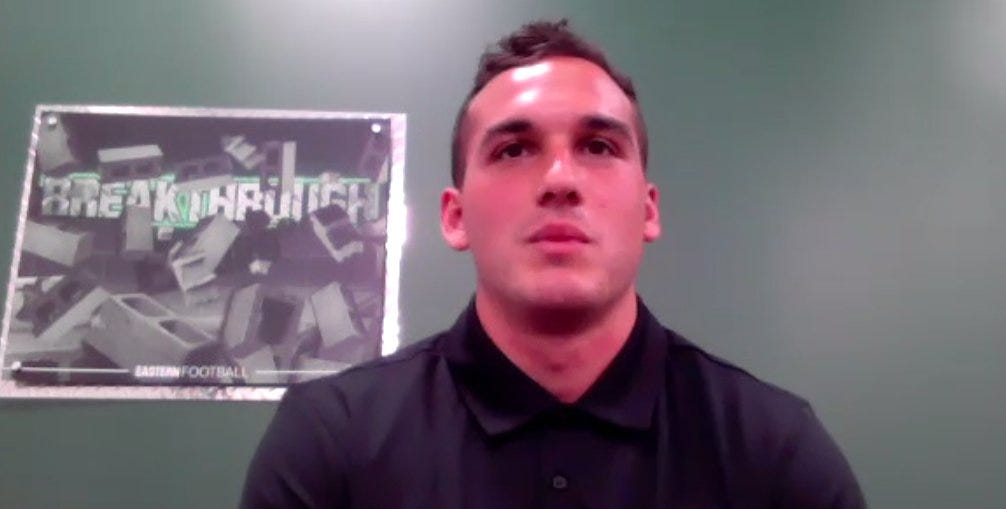 Screenshot: Greg Kelley in Thursday Zoom call with media members.
Per an eonline.com article by Natalie Finn from Aug. 14, Kelly had been offered four scholarships. Rivals lists his offers at the time as from UTSA, Rice, and Texas State, but ultimately committed to Neathery's defense.
"I feel like I'm a 19-year-old kid again," Kelley said. "I'm 25 and I'm getting the opportunity to go and do what 19 and 20 and 21-year-olds do.  I'm making new friends. I'm making brothers. I'm getting to play the same position that I did in high school (safety)."
Time spent working out in Texas and being a self-professed "barbell snob" has led to Kelly bulking up from 185 lbs. in high school to 215. 
"I feel like I have tons of potential, but the things that I do from here on out, I'm in control of me either riding the bench or getting playing time on Saturday," Kelley said. 
The Lone Star state standout recorded 68 tackles and 4.0 sacks as a junior safety for Leander High School in Leander, Texas in 2013. He was preparing for his senior of football when he was originally arrested.
Per the aforementioned eonline.com article, Kelley has said he wishes to start a prison ministry at some point to aid people who he knows need help and a reason for hope.
Strong in his religious convictions, Kelley, who idolized Tim Tebow, was highly reliant on his faith throughout his time in prison. He acknowledged that he gets lots of messages on social media of people explaining how his story has inspired them.
"There's a lot of people getting convicted," Kelley said. "There's a high probability that a lot of innocent people were getting convicted as well. At one point in my life, I knew I needed this documentary to happen because I didn't know if they (the state of Texas) were going to do the wrong thing and send me back, and we fought for many, many years for the truth to come forward."
Now Kelley looks to live his truth on the football field, with an extended family in a new part of the country, as he takes his first steps into MAC football.
---