Discover more from The Ypsilanti Eleven
Ypsilanti's college football newsletter.
EMU coaching staff finalized, Lance Leipold extended at Buffalo
Eastern Michigan's football coaching staff all filled up with the announcement of three newcomers: Brandon Blaney, LaMarcus Hicks, and Mike Piatkowski.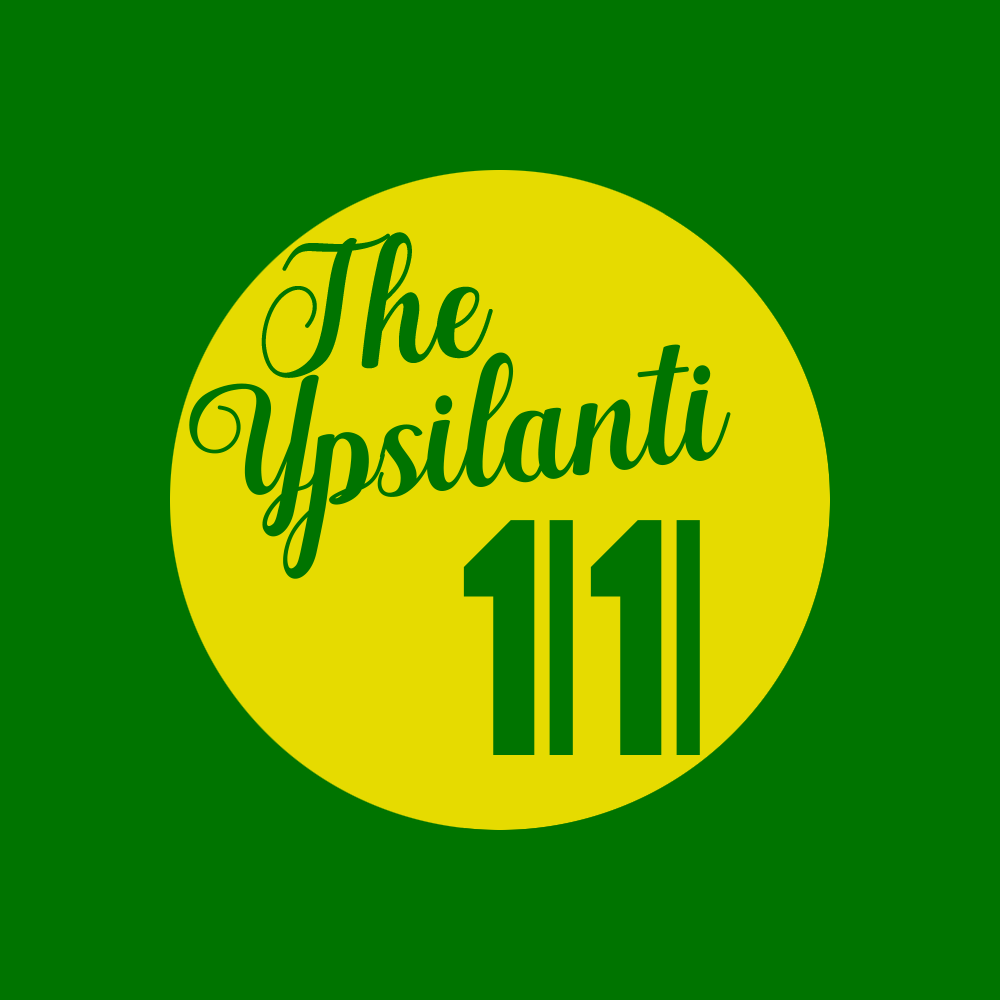 EMU football coaching staff finalized
Last week, Eastern Michigan announced the hires of three new assistant coaches: Brandon Blaney, Mike Piatkowski, and LaMarcus Hicks.
I've gone in-depth over Blaney and Piatkowski's resumes before, but Hicks is a new name here.
Hicks' previous jobs
2018-2019- Bowling Green, DB

2016-2017- Jackson State (FCS), S

2014-2015- North Texas, CB

2013- Concordia (Mich., NAIA), DB

2011-2012 Truman HS (Mich.), DC/DB

2010- Rhodes College (Tenn., D-III), WR

2006-2008- Detroit Lions, Player

2004-2005- Iowa State, Student assistant
Hicks played cornerback with the Detroit Lions in 2006-2008 after graduating from Iowa State. Since 2010, he coached two years in the high school ranks, one year at Division-III, one year at an NAIA school, two years at JFCS Jackson State, got his first opportunity at the FBS level coaching corners at North Texas (2014-2015), second with Bowling Green's secondary (2018-2019), and now at Eastern. Hicks is from Clarksdale, Miss., played college ball in Iowa, but this is now his fourth southeast Michigan-based job since 2006.
Blaney's previous jobs
2018-2019- Michigan, Offensive analyst

2015-2017- Tennessee Titans, Defensive assistant

2014-2015- Iowa State, OL

2011-13- Jacksonville Jaguars, Defensive Quality Control, Defensive assistant

2002-2009- Kansas, OL, RC

2001- Ohio State, GA, LB

1999-2000- Oklahoma, GA, OL

1995-1998- Youngstown State, Student assistant
Blaney was 190 pounds out of high school, which was too small to play center at the college level. He's one of the few to really make it into coaching without college playing experience. Blaney was instrumental in helping Mark Mangino's program at Kansas have its best era ever, including the 2007 team that went 12-1 and finished No. 7 in the AP Poll. Creighton said he's been looking forward to working with Blaney, and now he's in charge of EMU's tight ends.
Piatkowski's previous jobs
2018-2019- Indiana, GA Offense

2016-2017- EMU, GA Offense

2014-2015 Midland University, GA, RB/TE

2013- Montana State, Offensive intern
Piatkowski is a first-time, full-time positions coach, and is doing so at the FBS level. Even though his last two years were spent at Indiana as a graduate assistant, Piatkowski's known Creighton ever since he was recruited out of Wheaton HS (Ill.) in 2008. This connection alone makes Piatkowski uniquely rooted in the culture that Creighton, his players and coaching staff have been trying to build up at EMU long before any of them ever showed up to Ypsilanti.
EMU coaching staffs, last year vs. this year
Here's a side-by-side of the Eastern Michigan football coaching staffs in 2019 and 2020, with new hires in bold.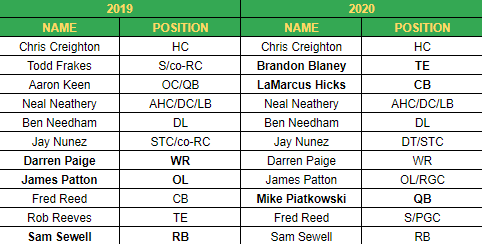 In each of the last two offseasons, Creighton has had to make three new hires. For 2019, Darren Paige came in to work with the receivers, James Patton came in for the offensive line, and Sam Sewell for running backs. They all have had full-time, Division-I college coaching experience before, but EMU became Paige's and Sewell's first full-time FBS stops. (They coached at the FCS level.)
Job changes
Jay Nunez: special teams coordinator/co-recruiting coordinator to special teams coordinator/defensive tackles
Nunez's other half to organize EMU's recruiting, Todd Frakes, is gone, and now his responsibilities have shifted to spend more time with the defensive tackles. There's no official recruiting coordinator, but who says EMU needs one? Jeff Collett's done a great job as the director of recruiting operations, and EMU hired Breck Turner, who just graduated from the playing roster, as recruiting quality control.
James Patton: offensive line to offensive line/offensive run game coordinator
There's no official offensive coordinator, but the play-calling will be done by Creighton with the help of Patton. EMU's pass-to-run approach is what's working for this team, and Patton's going to help Creighton identify the soft spots to run through.
Fred Reed: cornerbacks to safeties/defensive pass game coordinator
The defense will go through a similar adjustment with Reed, shifting from corners to safeties positionally, pulling the strings on what coverages EMU's secondary should be running with Neathery's defensive play calls. Neathery, Nunez and Ben Needham will all get to focus on the front seven while Reed and Hicks handle the defensive backs.
Spring practices soon
Kids are on spring break this week, then the first of 15 spring practices begin March 10. The spring game will be on Saturday, April 11 at Rynearson.
Buffalo extends Lance Leipold. Again.
Lance Leipold received another contract extension Friday. The new contract will keep Leipold in Buffalo through the 2024 season. In February 2019, Leipold and the Buffalo athletics department re-worked his contract to keep him with the team in 2023.
Via The Buffalo News:
With another year added to his contract, Leipold now turns his vision towards the next steps for the program.

"When I interviewed for this job (in 2014) I told Danny White at that time that I'd like to build a program very similar to what Ohio's done, and If I had that type of longevity, I'd be very pleased with that," Leipold told The News on Friday. "I think we're on that path. We've made improvements on the field, in record, we've made improvements in facilities but we're nowhere near where we need to be. The field house has been great. The fueling station has been big. Our meeting rooms are important, but we still have improvements needed. Weight room, our locker room, other things like that. Those are all important, as far as being on the same page, administratively.

"Everything appears we can stay on that track with Mark (Alnutt) as athletic director. This will be the first time I'll work with an athletic director for three seasons, and now you get a chance to work together on some things, and I think those things continue to come together."

A UB athletic department spokesperson told The News that Leipold's extension will remain under the same terms, with minor changes to the bonus structure. Under the terms of Leipold's current contract, obtained by The News through a Freedom of Information Law request, he earns an annual base salary of $465,000 and additional compensation of $150,000, and bonuses ranging from $5,000 (annual APR rate) to $100,000 (participation in the College Football Playoff).
It took a little bit, but Buffalo's one of the best teams in the MAC, and didn't suffer a losing season after going to the league's title game in 2018. This season will be Leipold's sixth with the Bulls, and turns 56 in May. He's got a record of 31-32 at Buffalo (20-20 in league play) and is 1-1 in bowl games.
Against EMU, Leipold and the Bulls are 2-0 with wins in 2018 (35-28) and 2019 (43-14). But the biggest win Leipold has over Creighton and EMU was offering Jaret Patterson, who is currently the MAC's best running back.
The Buffalo News' Rachel Lenzi wrote a feature on the Patterson twins last spring:
The Patterson brothers made an unofficial visit to Eastern Michigan as high school sophomores, where James received his first scholarship offer.

A few minutes after James met with Eastern's coaches, he wondered where his brother was. After a search of nearly half an hour, he found his brother in the bathroom, sobbing.

"He didn't get a scholarship offer, and that broke my heart," James said. "But that's how passionate he is about the game."

At that point, James realized that if he was going to play college football ⁠— Division I college football, at that ⁠— he was going to go to college with his twin brother.
More MACtion links
---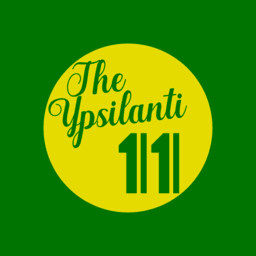 Twitter: @ARAlvarado13 | Song of the day: "Through the Wire" -Kanye West | Sign up for updates below!