Discover more from The Ypsilanti Eleven
Ypsilanti's college football newsletter.
EMU & MAC Football Notes: On Jairus Grissom, Ring of Honor extended, Jeremy Hickey update
Jairus Grissom has a lot of ability to make plays in a lot of different ways for the Eagles. How will he make an impact for the EMU offense in 2020?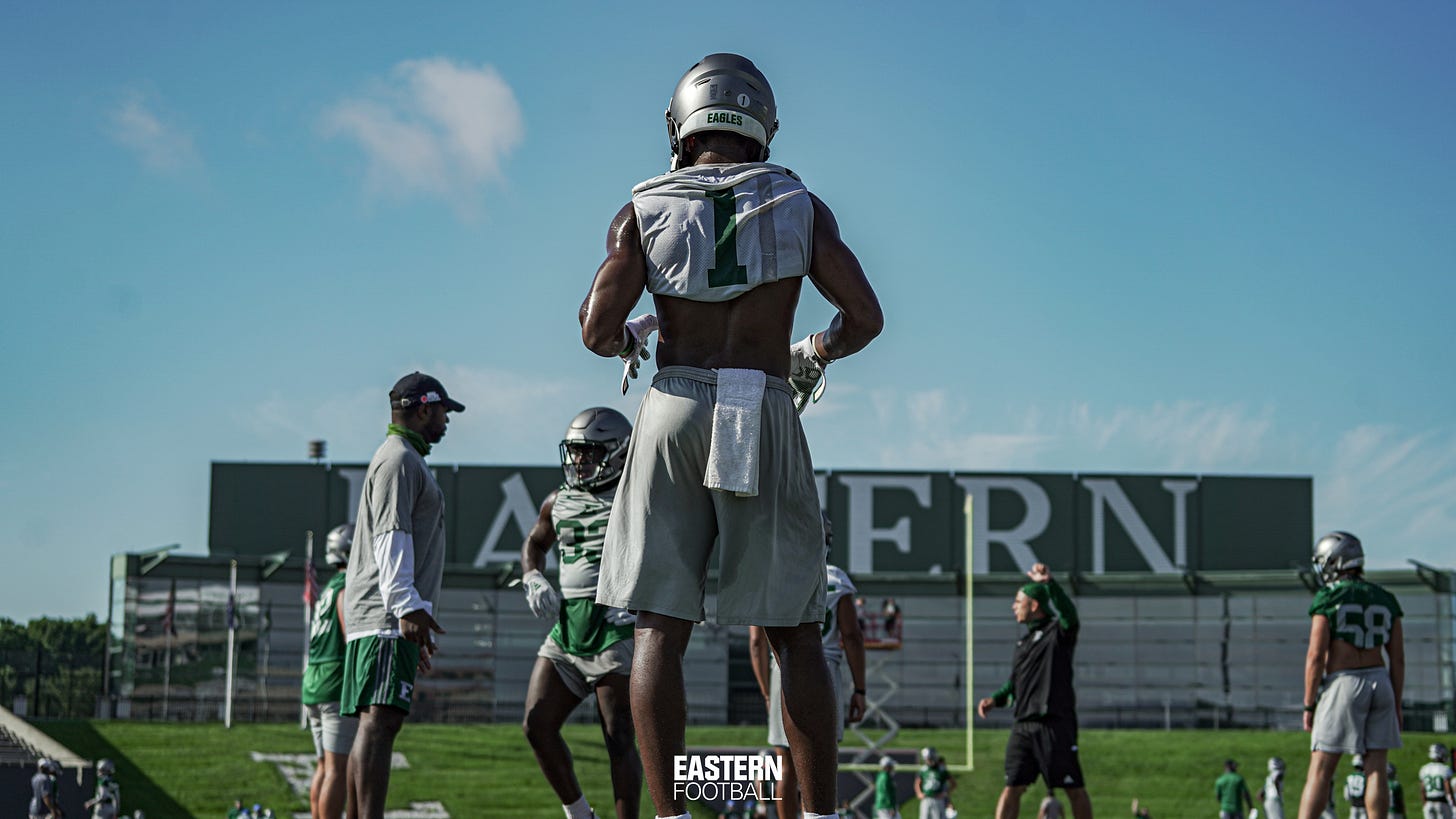 (Photo credit: Eastern Michigan Athletics)
Welcome to The Ypsilanti Eleven! Jairus Grissom hasn't been an All-MAC type player for the Eagles, but he's one of the more interesting pieces on the Eastern offense that may or may not play the position you think he's going to play at. Receiver? Running back? Quarterback? In any case, he's athletic and it's his time to shine, right? A quick thought on his situation, and some other thoughts in and around EMU/MAC football.
If you're new here and EMU football is kinda-sorta your thing, you should know that it's 100% free to subscribe here.
On Jairus Grissom
The college football program in Ypsilanti was excited to get Grissom, the do-it-all QB out of River Rouge HS, to commit to the program for the 2017 signing class. Grissom had the speed, the strength, the arm strength, and the playmaker's mentality that Chris Creighton looks for in finding his offensive weapons.
However, it took a year before Grissom, the highest-ranked QB recruit to come into EMU in the Creighton era, even got on the team's roster, then when he tried out for quarterback, other transfers (Tyler Weigers, Mike Glass) that were well ahead of Grissom on the depth chart. But it didn't make sense to just leave all that talent on the bench. So instead of being the playmaking quarterback, Grissom became more of an unrecognizable wildcard. He wore #19 in 2018 and #6 last season. In his two years with the Eagles, Grissom threw the ball five times (four completions, 50 yards), ran the ball 23 times (175 yards, 2 TD), and caught it five times (31 yards, 1 TD).
This year the "wide receiver" will wear #1. Of the actual wide receivers that were on the team last year, only three come back to lead the position group filled with many, many newcomers: Quian Williams (52 rec., 661 yards, 6 TD), Dylan Drummond (55 rec., 493 yards, 3 TD), and Hassan Beydoun (30 rec., 349 yards, 1 TD). Grissom hasn't gotten a ton of looks before, but the timing of his career and the need for another playmaker on offense this year might mean that he's going to get more targets or carries or whatever this season. He's going to get his opportunities by virtue of EMU needing guys like him to have a breakout year, but he's going to have to make the most of those chances.
But whether it be at receiver, at running back, or back at the quarterback position, if Grissom, listed at 6'2, 210 lbs., can play with the explosiveness that lets him make yards after contact, then this offense could quietly improve on its 29.2 points per game average from 2019.
Ring of Honor extended to include Jackson, POC, Wylie, Maxx
EMU already tweeted out that it was cleaning up its Ring of Honor, a list of EMU football players that either turn out to be All Americans or play in at least one official NFL game, but the school kept the cool part a secret: it extended out to include four Creighton-era alums. Newly introduced to the ring: RB Darius Jackson (class of 2015), DE Pat O'Connor (2016), OL Andrew Wylie (2016), and DE Maxx Crosby (2018).
Jackson was a sixth-round draft pick by Dallas in 2016 that found himself in four games with two different teams in 2018. He's still a journeyman that's spent most of his time in the practice squad ranks, but for his NFL career he's carried the ball six times for 16 yards. Currently, Jackson is on Indianapolis' practice squad.
O'Connor was a seventh-round pick by Detroit in 2017, but his career has been made in Tampa Bay where he's a defensive end and does some special teams. Over his career, O'Connor appeared in 16 NFL games including all five this year.
Wylie wasn't drafted unlike the other names included with the unveiling, but unlike them, he got to play on a Super Bowl-winning team last year. Wylie campaigned from team to team before Kansas City finally signed him, and has been a full-time starter for the Chiefs O-line when healthy. He's started in 24 career games for the Chiefs (three this year) and played in 30 games.
Crosby's had the best individual start of the group — drafted in the fourth round by the Raiders of Oakland (now in Las Vegas) in 2019, 20 career games played, 13 sacks, 19 tackles for loss, 17 quarterback hits, five passes defended, and four forced fumbles.
OL Jeremy Hickey signs indoor team
Jeremey Hickey, former offensive lineman for the Eagles (class of 2018) signed a professional contract with the Arizona Rattler, announced Thursday.
The Rattlers are part of the Indoor Professional League, which has been playing since 2009, and currently has 12 teams playing.
Hickey played in 35 games over his career at EMU, and was the full-time left guard as an upperclassman. Hickey never made a roster in the NFL or the XFL, so hopefully, he'll have better fortunes in the IFL.
Pair of MACtion roster moves
Eastern Michigan
Seniors RB Willie Parker and QB Chris Helbig are off the team's 2020 roster. No official word on that yet.
Western Michigan
WMU coach Tim Lester announced that senior A.J. Thomas has moved from safety to linebacker. Thomas (6'3, 210 lbs.) has started 22 games for the Bronco defense with 122 career tackles, five for loss, and nine passes defended.
---