Discover more from The Ypsilanti Eleven
Ypsilanti's college football newsletter.
Class of 2021 Recruiting: 50+ juniors already received offers to EMU
There are also a pair of Class of 2022 wide receivers that have been offered by Eastern.
Welcome back to The Newsletter Eleven!
First, a quick thank-you to the early supporters for this newsletter. The notes, shares, and messages have been really nice, and I'm delighted by the excitement some have already shared too. Thanks to all of you, and I'm excited to see where this goes!
It's officially next year, which means we need to look at next year. By that, I mean we'll be focusing our attention on the next recruiting cycle. There are still some class-of-2020 prospects out there that are committed and not yet signed with Eastern Michigan this year, but the signing class is pretty much all filled up. I'll go back and review last month's signing class and whatnot on a later date (it's not like it's timely at this point), but right now I want to focus our attention on which high school juniors (and sophomores!) already hold offers from EMU.
How many non-senior high schoolers have Chris Creighton and his staff given offers to?
After scrolling and clicking around 247sports and Twitter, I counted 51 juniors (class of 2021) and two sophomores (2022) that have received EMU offers, which is more than plenty to get a look at what C.C.'s recruiting board sorta looks like. I'm not evaluating or analyzing how good these kids are, I'm just trying to get my notes in order by familiarizing myself with new names.
The lists of 2021 and 2022 recruits are broken up into three sections: HS juniors offered and uncommitted, HS juniors and already committed elsewhere, and HS sophomores with offers and uncommitted. If you click on a player's name, you'll end up on his Hudl page so you can start watching clips on your own time.
Before you read the lists of new prospects, you should probably know how many seniors EMU has on its roster. The official 2020 roster currently lists 21 players as senior-eligible, including 10 at defensive line and secondary combined. Here's a quick table: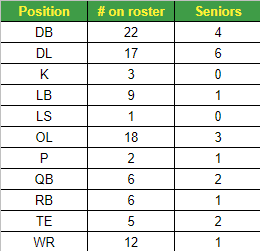 (Note: I'm absolutely confident I'm missing some names lists below. I'll be sure to make the proper edits for next time if/when those missing names turn up. If you see something, say something in the comments.)
Class of 2021 players offered
Offense (28 totals: 2 QB, 4 RB, 7 WR, 1 TE, 14 OL)
Defense (21 totals: 7 DE, 3 LB, 6 CB, 5 S)
Class of 2021 players offered, committed elsewhere
Class of 2022 players offered
Closing thoughts
Again I'm not here to evaluate these high school kids. My goal for this was to start learning new names since the 2020 recruiting cycle is wrapping up, and I'm happy that modern technology helped me find 50+ juniors to put on my radar. There will be more recruiting updates to come and those lists you just read will get edited over time. I'll keep you posted.
---
Site: The Ypsilanti Eleven | Twitter: @ARAlvarado13 | Song of the day: "Much More (ft. Yummy)" -De La Soul | Sign up for updates below!