Discover more from The Ypsilanti Eleven
Ypsilanti's college football newsletter.
Box Scores of MACtion's Past: EMU 24, Kent State 10 (1994)
After riding the nation's longest losing streak, EMU's mid-season turnaround gave the program its winning record in league play for the first time in five years.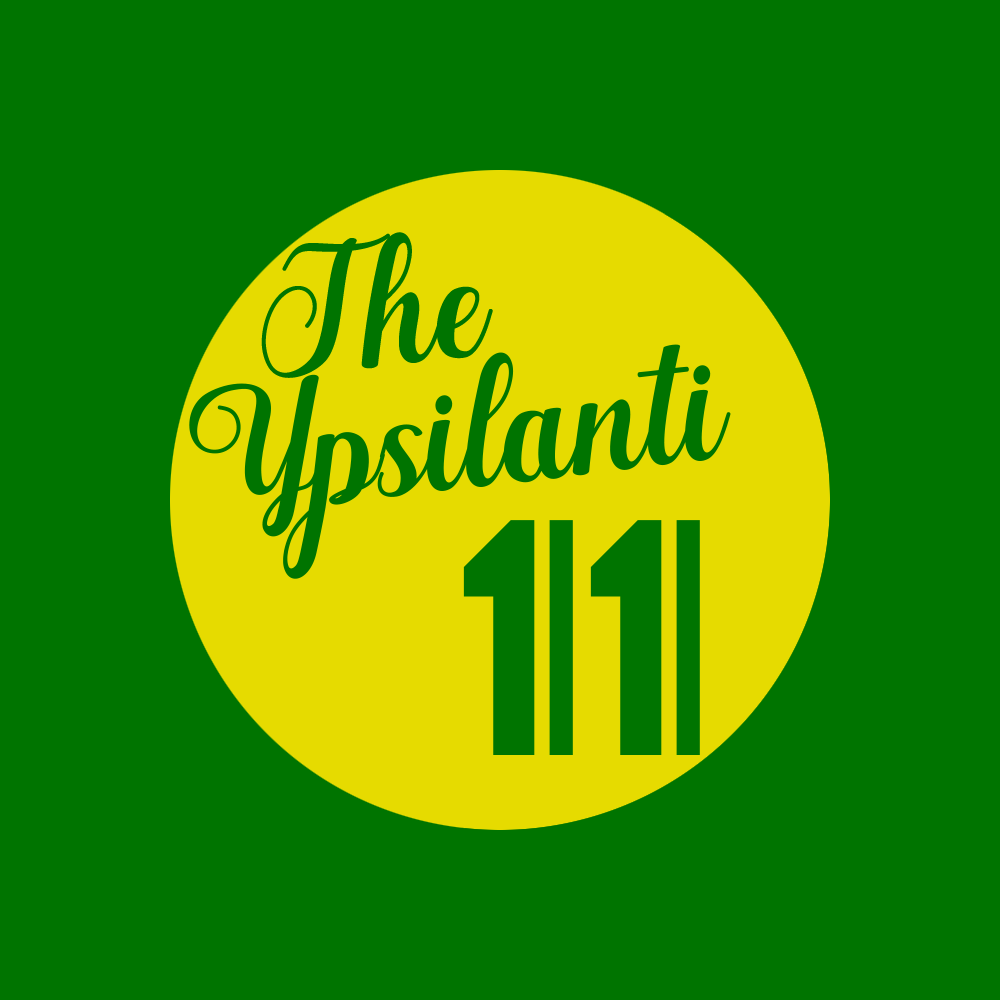 Hey! Since I'm out of work for the time being, I've decided to finally try out a new series. You can probably guess what it is from the headline, but it's called Box Scores of MACtion's Past. In short, these posts are where I pull a former MAC game from back in time, revive its box score, and try to focus in on the moment.
In 1994, Eastern Michigan opened up the season 0-5 and rode the country's worst losing streak of 10 games, which dated back to the season prior. EMU opened up the season with losses to UNLV (17-3), No. 10 Wisconsin (56-0), Central Michigan (30-29), Bowling Green (30-13), and Miami-OH (21-17).
That losing streak could've stopped at nine. EMU had to defend Rynearson against Miami, 0-3-1 record at the time, was also hungry for its first win of the year. The Eagles took a 14-0 lead at halftime for naught. Miami caught up with two second-half touchdown runs from Deland McCullough and one TD pass from Neil Daugherty to Eric Henderson, and took down EMU 21-17.
EMU's second-year head coach Ron Cooper needed a change. He was disappointed in his team failing to score in red zone possessions and, in his mind, that 14-0 lead at halftime probably should've been 21-0. Then there was that blocked punt to turn into Miami points, and a 30-yard field goal miss for good measure. He'd later take blame for losing the kicking game.
Cooper's midway through his second year at Eastern with a 4-12 record to his name. "We've got to be able to make plays on defense and keep pushing," Cooper said after walking off the field against Miami. "Somehow our coaching staff has to pull the team through and win one. Maybe then the players will jump on board and say, 'This feels good.'"
Gearing up for Kent State (1-3, 1-2 MAC), Cooper announced that sophomore Charlie Batch will get 40% of the snaps and senior Michael Armour would still keep his starting role. With the team's focus on closing out games, Cooper was aware of how close these two teams have fared in recent years.
In 1990, EMU lost at Kent State 25-24. In '91, EMU won by one (21-20). Kent State's win in '92 was decided by a field goal (17-14). And in '93, EMU beat the Flashes 20-15. The four previous matchups were decided by 10 combined points.
That next Saturday in Kent, Ohio, EMU saw itself in the same situation it found itself the week before: up 14-0 at the half, and 30 more minutes of football to close out the game. Instead of squandering the lead, the Eagles buckled down on defense and won the contest 24-10, which would snap the longstanding losing streak.
The Associated Press' game recap:
KENT, Ohio —Steve Clay returned a punt 38 yards for a touchdown and caught a 20-yard pass for another score as Eastern Michigan beat Kent 24-10 Saturday in the Mid-American Conference.

Eastern had been tied with Houston for the longest Division I-A losing streak. The Hurons had lost 10 in a row.

Stephen Whitfield opened the scoring with a 2-yard touchdown run for Eastern Michigan (1-5, 1-3 MAC) in the second quarter. Clay's punt return with 48 seconds to play in the half made it 14-0 at halftime.

Eastern Michigan went ahead 21-0 on Charlie Batch's touchdown pass to Clay with 6:45 left in the third quarter, and Carson Green added a 24-yard field goal for the Eagles in the fourth quarter.

Kent (1-4, 1-3) scored with 1:22 left in the third quarter on Robbie Butts' 22-yard field goal. Astron Whatley scored on a 1-yard run for the Golden Flashes with 46 seconds left.
Eastern Michigan 24, Kent State 10 — BOX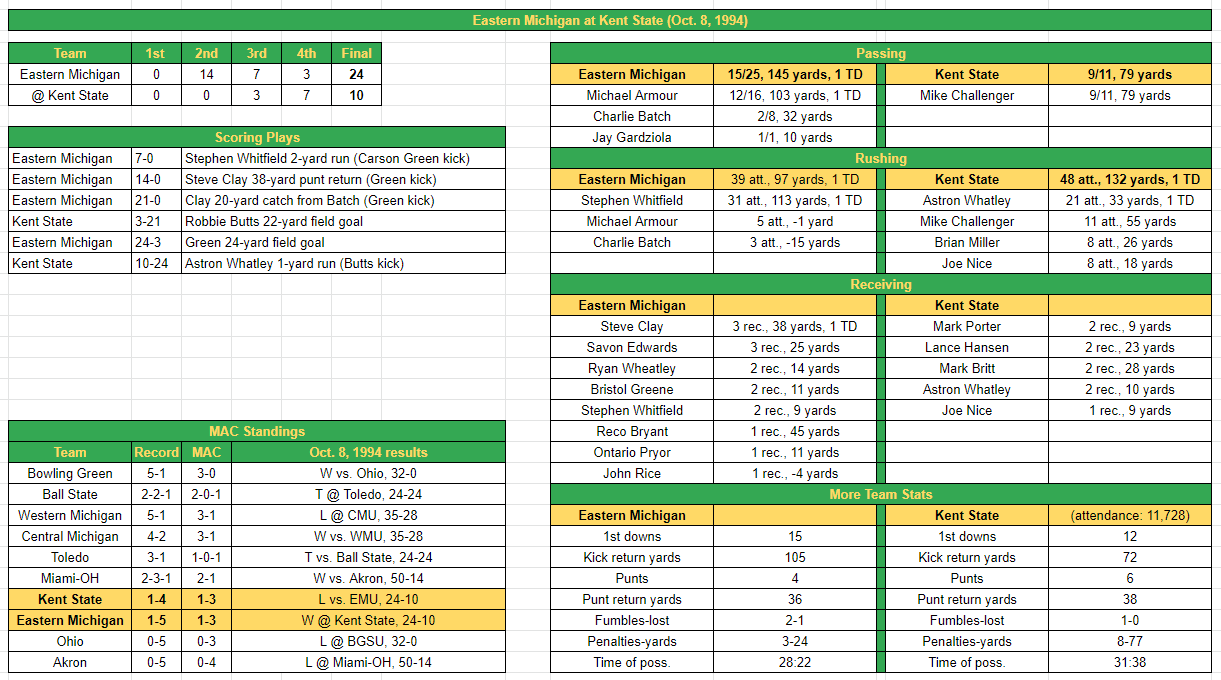 Afterward, Cooper said that if his team can score 24 points and play good defense every game, there's no reason why his Eagles can't win out the rest of the season. After a bye week, EMU lost its next game at Western Michigan, but then turned around and won its last four in a row to finish the year 5-6 overall, 5-4 in MAC play. This year marked the first time EMU had a winning record in conference play since 1989.
Sources:
The Detroit News and The Detroit Free Press, Oct. 2, 1994; Oct. 5, 1994; Oct. 8, 1994; Oct. 12, 1994

Lansing State Journal, Oct. 9, 1994
---
Twitter: @ARAlvarado13 | Song of the day: "Halftime" -Nas | Sign up for updates below!