Discover more from The Ypsilanti Eleven
Ypsilanti's college football newsletter.
Big Ten's playing in the fall again, and MAC players join#WeWantToPlay movement
MAC athletic directors are drawing up ways to get teams back onto the field this fall instead of the spring as well.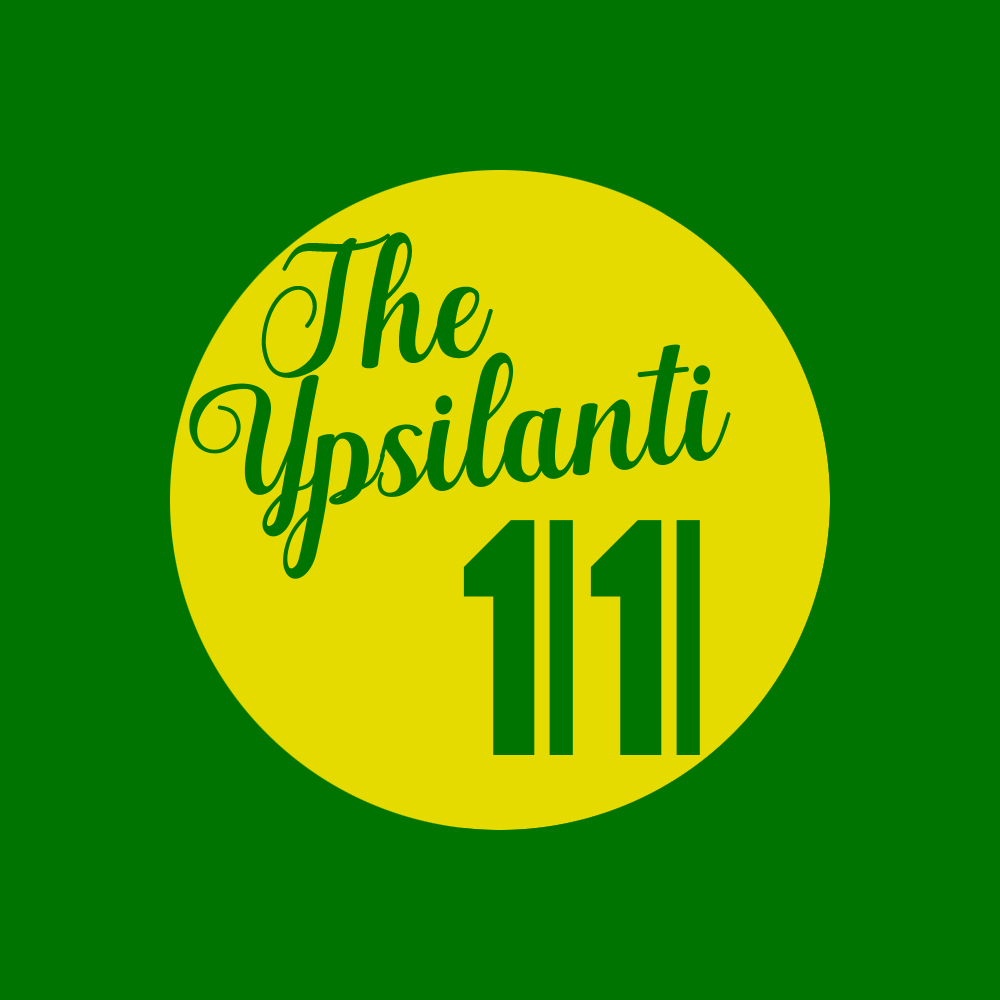 Welcome to The Ypsilanti Eleven! The Big Ten likes to be the center of attention and did so by dragging out its process of scrapping a fall football season, then, yesterday, announced that there will be a fall season again. Mid-American Conference football players want a piece of the pie, too.
Big Ten's Back, a Timeline
July 9 — The Big Ten announced that its football teams would play against only intraconference schedules in 2020, getting its schools off the hook from having to pay for non-Big Ten schools to come in for non-conference play. In all, that meant 17 Mid-American Conference vs. Big Ten games were cut, a huge financial burden for the MAC schools.

Aug. 5 — UConn became the first FBS school to cancel its football season. The Big Ten announced that its schools would play 10 conference-only games and came out with a full schedule.

Aug. 8 — The Mid-American Conference became the first FBS league to scrap all fall sports plans and was focused on reviving these events in the spring.

Aug. 10 — Mountain West follows suit and cancels fall sports so they can be played in the spring.

Aug. 11 — The Big Ten and Pac-12 both cancel their fall plans to focus on having spring seasons instead, too.

Sept. 16 — The Big Ten's presidents and chancellors came out with an update on its medical protocols and procedures, and "voted unanimously" to resume football season (to say nothing of its other fall sports) beginning the weekend of Oct. 24.
This has been the most annoying news cycle in college football history, says me. All of this started with the coronavirus keeping many away from public venues, parties, and even their jobs six months ago, and it has since been a free-for-all for Americans to make up their own minds about what they think the severity of the virus should be.
Parents and players around the Big Ten threatened to sue the league, Nebraska basically wanted to act independently but still as a Big Ten school, Ohio State wants to play in the same College Football Playoff as the fall teams, and everybody from every side has a finger pointed at the league's first-year commissioner, Kevin Warren, to blame for the handling of all of this.
And since sports aren't political at all: President Trump and his people are saying that he played a hand in helping the Big Ten get to this point, and some networks are saying that the White House is also supplying testing for these football players. Newsweek's Elizabeth Crisp reported that Trump's working on the Pac-12 to do the same.
MAC Doubles Down on Spring
As the Big Ten's news came out, the MAC pushed this two-sentence statement yesterday to say that there would be no schedule re-changes for its fall sports.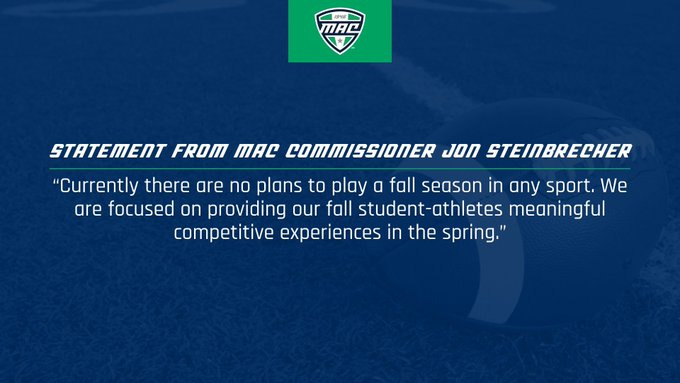 Obviously, everybody took this news non-update very well and was cordial with their responses.
That Was Immediately Met With Backlash From Players, Coaches, Fans
Team statements have come out from Buffalo, Miami-OH, and Western Michigan about why they believe they should be able to return to the gridiron this fall. Many other individuals around the league have shared this "#WeWantToPlay" image with the MAC's shield and MAC team logos on it.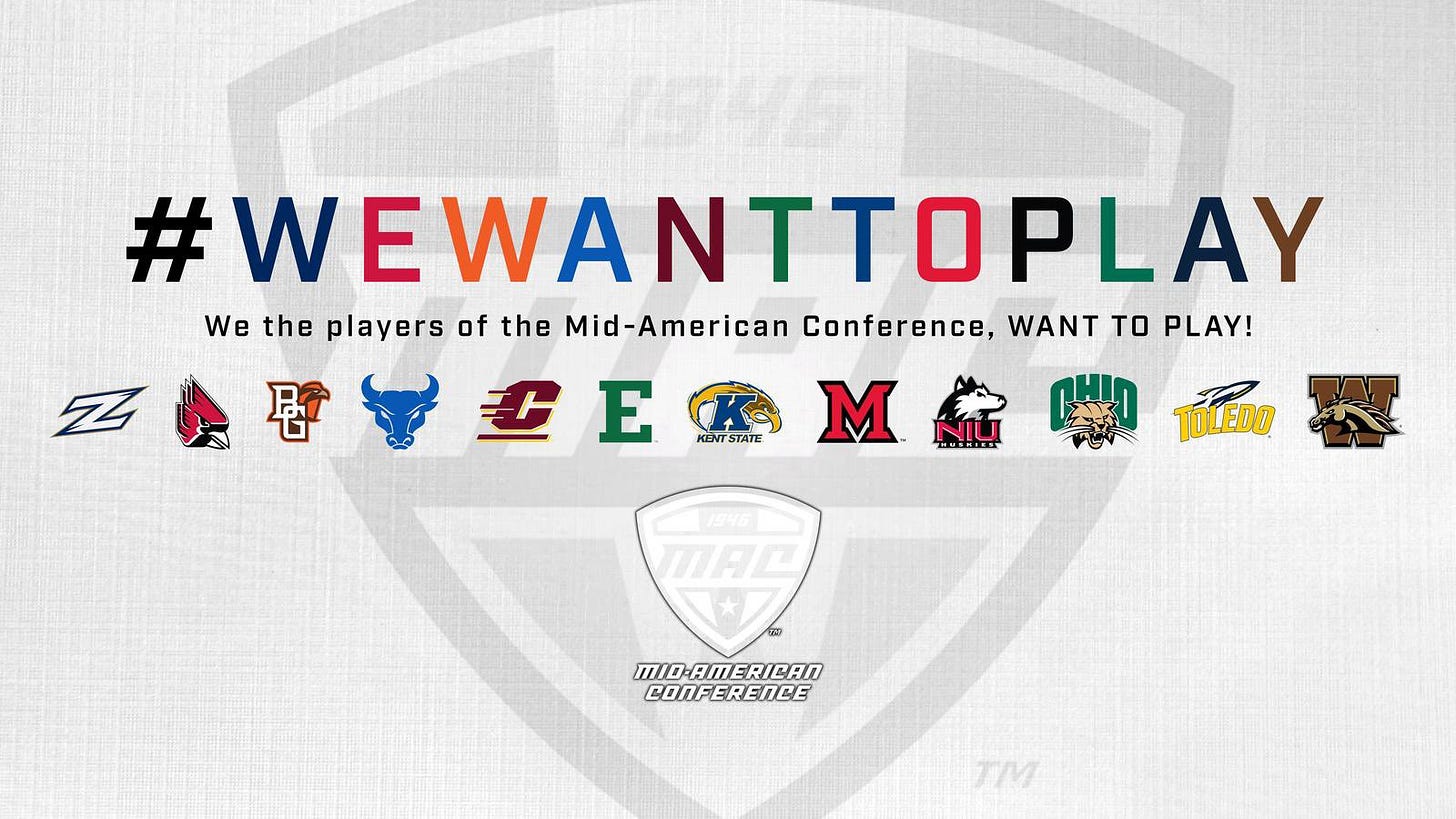 Here's what Buffalo running back Jaret Patterson, the current face of the MAC, said on Twitter:
"I'm happy for my brothers in the Big 10 who'll get to play this season.. But it's been over a months since we cancelled our football season. The reason most of us have worked so hard in our lives, gone. The reason a lot of us were even able to go to college, gone. And now 70% of college football is playing. I know we don't have 100 million dollar budgets in the MAC and we're not going to win a Nat'l Championship but if it's not about money, why can't we play? The guys that ARE playing don't work harder than us. They don't care more than us. Why can't WE play? Respectfully, we deserve to have answers why we can't do it safely when all these other places can?

-Buffalo Bulls Football Team
A lot of responses to the MAC's continued stance have been mixed with relief and frustration. But the fans that are cool with a spring season won't be the ones that MAC presidents will have to deal with if conversations escalate from here. If I've learned anything over the last few months, it's that conversations absolutely will get louder, and that's going to lead to some more quotes.
When the MAC's presidents made its decision last month, Northern Illinois president Lisa Freeman was notably most adamant against the possibility of playing any fall sports in 2020. Freeman has serious credibility when it comes to this topic as she is a former postdoctoral fellow and research assistant at the University of Rochester. Her opinion is important. It's also worth noting that a lot of NIU players and coaches are hyping up the idea of a fall football season with the #WeWantToPlay movement.
Oh Look, There's Already a Proposal for Restart
The Toledo Blade reported Thursday that MAC athletic directors met virtually last night to talk about starting things back up in the fall instead of following through with a season that starts in the spring instead.
According to a MAC source, the proposed fall schedule would be six or eight games beginning Oct. 24, with no fans allowed and a championship game still at Ford Field in Detroit, its normal home.

After the Big Ten resumed, the Pac-12 jump started its efforts, and the Mountain West Conference has discussed a return, a MAC source said, "The optics of being the only league not playing would be incredibly negative."

Testing for coronavirus — and the additional funding it requires — is the main hang-up, though multiple sources said the league would not necessarily mandate daily testing to return. The MAC's current protocol tests athletes multiple times per week, even though they are not in season.

All 12 MAC schools have similar academic calendars due to the pandemic. At or before exam week, MAC students will return home for Thanksgiving, at which point schools will end the fall semester or hold the remaining time remotely before resuming spring semesters in January.

The break would allow campuses six or more weeks without the full student body on campus — which some coaches and administrators believe will provide the best window for playing a season.

MAC presidents will meet again Saturday to discuss the proposal, according to sources.
At this point, anything's possible. It's still very possible that the MAC, which didn't cite finances as a reason to postpone fall sports, might come out and say it's too broke to change direction and play in the fall. The league's presidents might come out and triple down on its August decision and say that the popular choice isn't always the responsible one.
The last 24 hours (let alone the past couple of months) have been wild for college football. I've got a feeling things are going to get dicey in the MAC over the next 48 hours.
---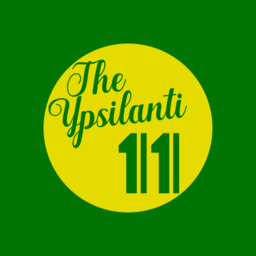 Thank you for reading! | Twitter: @YpsiEleven & @Y11recruiting | Class of 2021 MAC Recruiting: Commits | 2020 MACtion Transfer Portal Updates