Discover more from The Ypsilanti Eleven
Ypsilanti's college football newsletter.
2020 EMU Football Schedule
EMU opens the season with a road trip to Kent State, and finishes the year against Northern Illinois.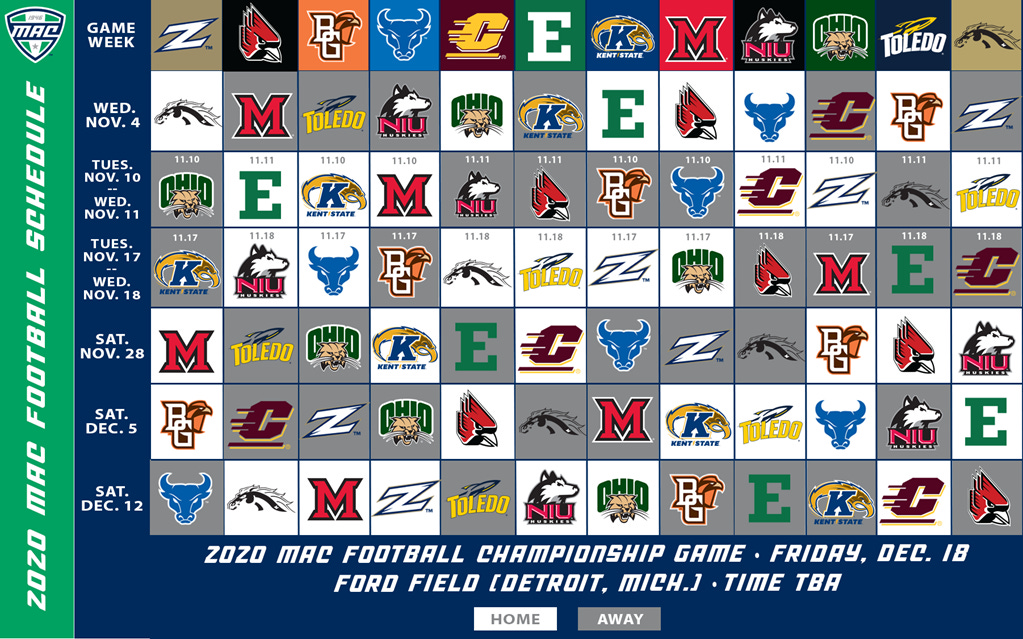 MAC football schedule grid for 2020, via #MACtion.
The Mid-American Conference officially announced its shortened schedule for the 2020 football season on Wednesday just 28 days before the league's season begins and just 34 days after the first FBS team started playing football.
The MAC schools' six-game schedules include five intra-divisional games and one crossover matchup. All six MAC East vs. West games will be played on the league's season-opener on Wednesday, Nov. 4.
The MAC Championship Game will still be played at Ford Field in Detroit, and will be on Friday, Dec. 18.
2020 Eastern Michigan Football Schedule
Wed. 11/4 at Kent State — Kent State won last year's matchup 34-26 at Rynearson Stadium to cap off the regular season. The Flashes are 9-16 in two years under head coach Sean Lewis, and finished last season with a 51-41 Frisco Bowl win over Utah State.
Wed. 11/11 at Ball State — Ball State won last year's matchup after EMU won the last three in a row.
Wed. 11/18 vs. Toledo — First home game on the EMU schedule. After over a decade of blowouts by the Rockets, EMU has made the last four matchups all decided by a touchdown or less, including an EMU victory in 2018.
Nov. 28 vs. CMU — Chris Creighton 2-4 vs. the Chippewas, but 2-1 at Rynearson Stadium in this series. CMU was pitiful in 2018, but Jim McElwain took a 1-11 team to an 8-win, MAC West-winning season in his first year leading the program.
Nov. 5 at WMU — Preston Hutcinson's surprise start last year: Beat the Broncos 34-27 with a 4-touchdown performance and a fight to the finish. Snapped EMU's 5-year losing streak to WMU.
Nov. 12 vs. NIU — Last year's 45-17 win was EMU's first time beating the Huskies since 2007.
Week 1 MACtion
Wednesday, Nov. 4
Ball State at Miami

Eastern Michigan at Kent State

Western Michigan at Akron

Bowling Green at Toledo

Buffalo at Northern Illinois

Ohio at Central Michigan
Week 2 MACtion
Tuesday, Nov. 10
Akron at Ohio

Kent State at Bowling Green

Miami at Buffalo
Wednesday, Nov. 11
Central Michigan at Northern Illinois

Eastern Michigan at Ball State

Toledo at Western Michigan
Week 3 MACtion
Tuesday, Nov. 17
Akron at Kent State

Buffalo at Bowling Green

Ohio at Miami
Wednesday, Nov. 18
Northern Illinois at Ball State

Toledo at Eastern Michigan

Western Michigan at Central Michigan
Week 4 MACtion
Saturday, Nov. 28
Ball State at Toledo

Central Michigan at Eastern Michigan

Northern Illinois at Western Michigan

Bowling Green at Ohio

Kent State at Buffalo

Miami at Akron
Week 5 MACtion
Saturday, Dec. 5
Ball State at Central Michigan

Eastern Michigan at Western Michigan

Toledo at Northern Illinois

Bowling Green at Akron

Buffalo at Ohio

Kent State at Miami
Week 6 MACtion
Saturday, Dec. 12
Central Michigan at Toledo

Northern Illinois at Eastern Michigan

Western Michigan at Ball State

Akron at Buffalo

Miami at Bowling Green

Ohio at Kent State
MAC Championship
Friday, Dec. 18
---